Coucou les French learners,
Kiyan joined us yesterday. After watching the first session of our Baby Stage self-paced course, he commented:
I am not beginner but I still can not listen French clearly. For me it's too fast. And my pronounciation is bad. So I want to restart learning French the natural way to absorb it. This method for me is more comfortable.
Kiyan struggles to understand spoken French although he is not a beginner. Are you facing the same situation? You feel like you're constantly struggling to keep up with the rapid pace and unfamiliar sounds of the Fench language?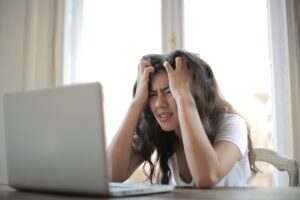 #youarenotalone
Understanding spoken French can be a challenge. But you can overcome this challenge with ease. How? Familiarize yourself with common phrases and expressions.
#youcandothis
Immersing yourself in the language and familiarizing yourself with commonly used phrases and expressions will significantly enhance your understanding. Here is how and why?
Communication Efficiency
Common words also known as high-frequency words make up a large portion of spoken and written language. By focusing on these words early on, you can quickly build a foundation for understanding French with ease.
Step-by-step, we help you understand those French common words and structures. In the Baby and in the Infant Stage, you immerse yourself in captivating stories filled with frequent words and essential structures. With enriching videos, transcripts, and audio, you effortlessly grasp the essence of simple French narratives.
Do you know the common structure – avoir besoin de (to need) – ? Watch the Infant Stage first session for free!
As you progress through our meticulously designed stages, your understanding expands. When you reach the Teen Stage, you find yourself confidently comprehending daily topics with ease. Watch the first session about my typical day for free!

Look at all the stages to understand French step-by-step.
Comprehension Boost
Since high-frequency words appear frequently in conversations, texts, and media, understanding them enhances your overall comprehension. When you encounter these words while listening or reading, you can quickly grasp their meaning, which helps you comprehend the context and follow the flow of communication more easily.
To build a solid foundation, our Baby and Infant Stories are the perfect choice. Bursting with repetitive common patterns and simple sentences, these stories are designed to reinforce your understanding while providing an enjoyable learning experience.
For example Bruce a soif is a very repetitive and simple story. It contains the two common verbs – il veut (he wants) – and – il va (he goes) – as well as the common expression – il a soif (he is thirsty) –
Once you have heard and read those structures repeatdly in the story, you understand them. Once you understand them, your know them. No need to study. No need to memorise. You will encounter them again in other stories.
Read and listen to this fun story for free!
You can also choose to listen to our selection of audio books which are compelling stories filled with commons words and verbs. These awesome books are read by myself clearly and slowly so you understand what's going on!
Vocabulary Expansion
Many high-frequency words serve as building blocks for more complex vocabulary. Learning these foundational words provides a solid basis for expanding your vocabulary. As you progress in your French learning journey, you can build upon these high-frequency words to understand new words more effortlessly.
The best part? You have an extensive library of hundreds of stories at your fingertips! From beginner to advanced levels, we have thoughtfully curated a diverse selection of stories to ensure you effortlessly navigate the realm of French comprehension.
High-frequency words are the backbone of effective communication in French. By prioritizing their understanding, you accelerate your language proficiency, enhance comprehension and expand your vocabulary.
#trusttheprocess
To know more about high-frequency words, read this!
Review of the week
Jon shared in the Community Chat:
Hi folks – just completed the Infant Stage – I have enjoyed it very much. I get drawn into the stories and presentation style. The visuals are excellent and make the French language comprehensible. I'm never trying to remember. Often later in day I catch myself starting to think in French.
What are you waiting for? Join us now and make real progress in French! You will gain:
CLARITY: progress step by step through stages and make French become clear to you.
COMMUNITY: meet weekly and keep yourself accountable through the most caring and invested community.
TRANSFORMATION: feel empowered. Be fluent in French. Transform yourself and get a new soul.
Happy French acquisition!
P.S. Got friends, family, colleagues and clients who want to become fluent in French? Share this with them, they'll thank you for it!
P.P.S To those who registered their interest in joining us in Pau, check your inbox! You should receive all the details with an special offer for members only!