Coucou les French learners,
Do you remember Chris? When she spoke French for the first time during our French Accountability Hour, I was shocked. Chris sounded fluent! How did she do it? Well, Chris kindly shared her French routine:
I am retired now and have lots of free time to spend with my target language. I go for a one hour power walk first thing every morning with Ben reading stories to me as I exercise thanks to the MP3 downloads available on the website. I return home, have a quick bath and then login to the website and remain there for a minimum of four hours per day. I also listen to Ben reading the stories via the MP3 downloads while doing housework and other jobs around the house.

Comprehensible Imput Theory is not a gimmick. I have experienced the magic of this powerful process first hand. In my opinion, all that is required is an excellent teacher, repetition, a calm mind and a commitment to daily imput.

This is Ben, My Dear Man and the voice you hear behind our stories!
Read more about Chris experience in our last newsletter.
Did you notice? Chris is not a child! She is retired. Have you ever doubted your ability to become fluent in a new language because you're too old?
It's time to challenge those doubts and embrace the incredible potential that lies within you.
Age is no barrier when it comes to mastering French. Whether you've been discouraged by assumptions about age, get ready to defy those misconceptions. Discover the truth about being old and language acquisition as we delve into the reality behind the myths.
Prepare to be inspired and empowered! #enjoytheride
Myth #1 "Older learners can't retain new information as well as young learners."
While as an older learner, you may have a different learning curve, you can still retain new information effectively! Here are some effective strategies that will help you maximize information retention:
Create associations or mental images to aid memory. When I tell a story, I draw on the board and use facial gestures to help you understand and retain the new words. I also take time to explain new words or expressions using words you already know. I use synonyms and antonyms too. You listen to rich and abundant French input. This helps you create vivid mental representations of the new information.
Do you know the story of the boy who was called – Mon chou (my cabbage) – by his Mama? Watch this exclusive video for free! Once you understand the gist of the story, read the story script and listen to Ben reading it. You can even download the PDF version and MP3 for free!
Spread out your French sessions over time. Although our stories are different, the words and structures within each story keep re-appearing. You keep hearing and seeing the same words and structures over and over again but in different stories so you don't get bored! This enhances long-term retention.
Connect new information to existing knowledge and context. Relate new concepts or vocabulary to real-life situations, personal experiences, or familiar examples. That is why we created the Teen Stage! Each session – video, audio and transcript with glossary – is about one personal real-life question such as your daily routine or your favourite season. Go to the first session for free.
Myth #2 "Older learners struggle with pronunciation and accent."
Reality: Pronunciation can be improved at any age. With exposure to native speakers, and using available resources, as an older learner, you can develop excellent pronunciation.
Like babies and toddlers, focus on observation rather than immediate production.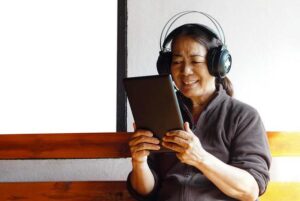 Listen and Mimic: Immerse yourself in French audio materials like our audio books. Pay close attention to the pronunciation, rhythm, and intonation. Then when you feel ready to produce French sounds, try to mimic the sounds and patterns as accurately as possible.
Myth #3 "It's too late for seniors to start learning a new language."
Reality: It's never too late to start. You have unique advantages such as life experiences, prior knowledge, time and a strong motivation which can enhance your language acquisition process. #youcandothis
As an adult, you often have a strong motivation and clear purpose for acquiring French.
Think about it? Are you planning to visit a Francophone country? Are you in love with French food and wine (I am sure you are!) ? Do you want to connect with French-speaking friends or family? This motivation and purpose will drive you to stay committed and dedicated to the acquisition process.
You can bring a wealth of prior knowledge and experience to the journey. How? By leveraging your existing linguistic and cognitive skills, as well as your understanding of grammar concepts and language structures from your native language or other languages you may know already.
Compared to a child or a yound adult, you possess developed critical thinking and problem-solving skills, which can be applied to language acquisition. You are able to analyze patterns, make connections, and actively engage with the language to understand complex grammar structures and vocabulary.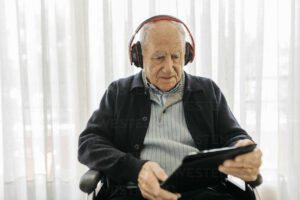 Are you convinced now? Consistent exposure to French leads to significant progress and proficiency in French.
Maintain a positive mindset, embrace the process, and celebrate every milestone achieved along the way. #trusttheprocess
Age should never be a barrier to acquiring new languages and expanding your horizons.
What are you waiting for? Join us now and make real progress in French! You will gain:
CLARITY: progress step by step through stages and make French become clear to you.
COMMUNITY: meet weekly and keep yourself accountable through the most caring and invested community.
TRANSFORMATION: feel empowered. Be fluent in French. Transform yourself and get a new soul.
Happy French acquisition!
P.S. Got friends, family, colleagues and clients who want to become fluent in French? Share this with them, they'll thank you for it!
P.P.S Our trip to Pau is
sold out
already! Thank you to our dear members who eagerly signed up. We are looking forward to meeting you in person!
Have a look at our program
.
We are planning to offer another French adventure soon!