Coucou les French learners,
Last week, I received a message from Josh, who recently joined our community:
I've finished the Baby stage and gone through video 9 of the Infant stage. My comprehension has improved A LOT in only 5-6 weeks of being a member in relation to my very beginner level from when I started. However, I wonder if I'm going at the acquisition process correctly? I find myself perhaps not acquiring French like a baby would because my mind already links the French words I hear to their English translation in my head. I feel like maybe I'm not correctly going through the same process Jeff Brown ("Poly-glot-a-lot" on YouTube) did in his video "How I learned Arabic in one year!". I'm curious on your thoughts to maybe help shut off my English brain, or whatever you think may help!

Merci beaucoup!
It's common for adult learners to make connections between the new language and their native language. While it's natural for your mind to associate French words with their English translations initially, it's important to remember that language acquisition is a gradual process.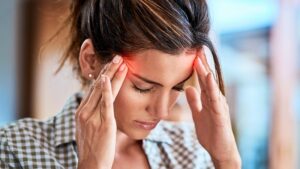 As you continue to immerse yourself in French, your brain will start forming direct associations between the French words and their meanings, bypassing the need for translation.
Here are 3 tips to help you enhance the acquisition process and reduce reliance on translation.
#youcandothis
Increase Exposure to French
Surround yourself with as much French input as possible. Watch French movies, listen to French music and podcasts, and read French books or articles. The more exposure you have to the language, the more your brain will adapt to thinking in French.
I suggested Josh to listen to our comprehensible audiobooks.
Audiobooks offer the convenience of portable and on-the-go learning. You can listen to them while commuting, exercising, or doing household chores, making language acquisition a seamless part of your daily routine.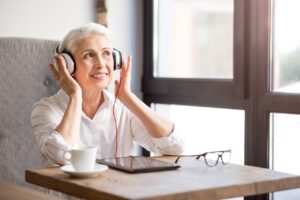 By immersing yourself in authentic French audio content, you expose yourself to native speakers' pronunciation, intonation, and rhythm. This exposure helps you become more familiar with the natural flow of the language and improve your ability to understand spoken French.
You also encounter new words, phrases, and idiomatic expressions used in various contexts, which helps expand your vocabulary repertoire. Through repetition and exposure to different linguistic structures, you reinforce your understanding of French words and their usage, allowing you to incorporate them into your own speaking and writing.
Our audiobooks often tell captivating stories set in French-speaking cultures, allowing you to immerse yourself in the cultural aspects of the language. As you listen to these narratives, you gain insights into the customs, traditions, and perspectives of French-speaking communities. This cultural immersion also deepens your understanding of the Francophone world and fosters a broader appreciation for its diversity.

Zeinixx is a true story. After growing up in Senegal, Zeina decides that street art is her calling. This audiobook is perfect for advanced beginners. It is written in the present tense and the vocabulary and structures are simple and comprehensible.
Practice Active Listening
Engage in active listening activities where you focus on understanding the meaning of the words and phrases in context rather than translating them. This can include listening to authentic French conversations, repeating after native speakers, or participating in interactive French activities.
In our last French Beginner Plus online class, we sang – La belle vie – all together. As we discovered the lyrics, we had to repeat and sing some parts of the song. It was fun! (You can purchase our online sessions replays from Beginner Plus to Advanced here)
Songs provide an enjoyable and engaging way to understand French. As you listen to the lyrics, you train your ears to identify words, phrases, and pronunciation patterns in a musical context. The rhythm and melody of the song help you tune your ear to the nuances of the language.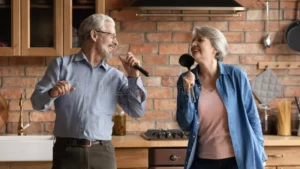 By understanding and internalizing the meaning of the lyrics, you expand your vocabulary repertoire and gain insights into how words and phrases are used in different contexts. Songs often feature poetic or creative language, providing you with a rich source of linguistic diversity and cultural references.
Think in French
Encourage yourself to think in French during daily activities. Try to describe your surroundings, express your thoughts, or narrate your actions in French. This practice helps to internalize the language and strengthen your ability to think in French directly, without relying on translation.
Try to retell a story you have just heard or read. It requires you to articulate your thoughts and express ideas in French. By narrating the events, characters, and plot in your own words, you are forming sentences, organizing your thoughts, and communicating in French without translating. It helps enhance your fluency, confidence, and thinking in French.
When you retell a story, you engage with the vocabulary and structures used in the original narrative. This process reinforces your understanding and retention of words, phrases, and sentence patterns. As you repeatedly incorporate these linguistic elements while retelling the story, they become more ingrained in your memory, making them easier to recall and apply in other contexts without the need to translate.

– Les touristes et le lion – is a funny story about two men wandering in the savannah until they meet a lion. It is a beginner story with lots of repetition. Read it and listen to it for free. You can retell this story orally or in written form, depending on your preferences. #enjoytheride
Remember, language acquisition takes time and patience. Celebrate your progress and keep immersing yourself in the language. With consistent exposure, you'll continue to improve your French and eventually develop a more natural and intuitive understanding of the language.
Continue embracing the acquisition process, and you'll reach your language goals.
#trustheprocess
What are you waiting for? Join us now and make real progress in French! You will gain:
CLARITY: progress step by step through stages and make French become clear to you.
COMMUNITY: meet weekly and keep yourself accountable through the most caring and invested community.
TRANSFORMATION: feel empowered. Be fluent in French. Transform yourself and get a new soul.
Happy French acquisition!
P.S. Got friends, family, colleagues and clients who want to become fluent in French? Share this with them, they'll thank you for it!
P.P.S Boost your French this summer. Join me live for a daily experience in July. Sign up here!