Coucou les French learners,
Let's celebrate! Célébrons ensemble !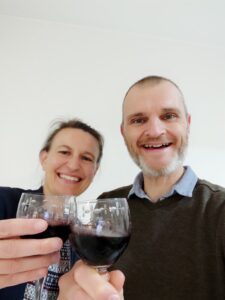 My Dear Man and I have finished the Infant Stage – 30 sessions to build a strong French foundation. The Infant Stage comes after the Baby Stage which includes 31 sessions to start acquiring the French basics.
When a new home is under construction, the work begins with pouring a foundation. It's not until the end of the project that the more noticeable finishes are installed, like light fixtures, flooring, and paint. These final additions are what we notice once the house is built, and we rarely think about the concrete foundation upon which the house is standing. However, that base is essential, and without it, the other parts of the house can't be installed.
The same thing is true when it comes to becoming fluent in French. You need a solid foundation upon which your later language skills can grow and develop. These later language skills are the full sentences you will be able to produce.
The foundation supporting your speaking skills, is your ability to understand every day conversations in French.
The Baby Stage followed by the Infant Stage help you build a strong foundation. You understand and acquire words and structures which are essential to get by in French. You develop a strong understanding of the French languages through compelling stories.
After watching, listening and reading the last Infant Stage story, Christine wrote:
I find parallels between this story and your method of acquiring French naturally. One of the parallels: by following clear directives (in the case of acquiring French naturally, par exemple, directives suggested in your YouTube video series "Rester Motivé") one will obtain great rewards. Excellent choice of story to complete this stage (chapter) of "the great adventure of acquiring French". The adventure continues! Merci.
Watch the Infant Stage introduction in English.
QUOI DE NEUF ?
Lire en français
We continue the new series of videos to motivate YOU to acquire French toute l'année, all year long. Each video focuses on one tip or trick to keep acquiring French no matter what!
Our last video helps you to read in French. Reading is the biggest advantage we have over babies acquiring their mother tongues. It helps enrich and broaden vocabulary whilst having a joyful moment.
In this video, I show you how to start step by step by reading French texts then readers. Your objective may be to read Le Petit Prince but first you have to build a strong reading foundation.
It doesn't have to be painful. Start reading what you understand and interest you.
#trusttheprocess
What are you reading in French?
Jack commented in French:
J'ai acheté un des livres de Theresa Marrama, Une Disparition Mystérieuse, et c'était un plaisir à lire. J'ai aimé le glossaire au dos du livre pour les quelques mots que je ne connaissais pas.
Le club de lecture
To turn into an eager reader, JOIN THE BOOK CLUB!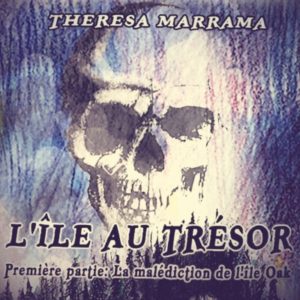 This coming Friday March, 25
5pm UK / 6pm France / 12pm EST / 9am PST
We will be talking about Theresa Marrama's book, L'île au trésor – Première partie : la malédiction de l'île Oak.
Daniel is a typical teenager who just wants to spend his summer vacation with his friends. Unfortunately, he must spend another summer in Canada, where his father works. Will his summer be as boring as the last, or will he manage to make the most of it in the absence of his friends? Will he find adventure and excitement in the long days ahead?
Listen to the audiobook too. And on Friday, get ready to talk about treasures and mysterious islands!
Gain new friends #youarenotalone
Increase your vocabulary and comprehension #readingispower
Reduce your stress #relax
Communicate with real people in French #youcandothis
What are you waiting for? Join us now for as little as 5 Euros/month (so the same as having a nice drink)!
Happy French acquisition!
P.S. Got friends, family, colleagues or clients who want to become fluent in French? Share this with them, they'll thank you for it!