Coucou les French learners,
Qu'est-ce que vous lisez en ce moment ? What are you reading?
Deb Nicholson who is also a member of our community recommended Writing to the bones by Natalie Goldberg. I am savoring each page of this wonderful book, merci mille fois Deb !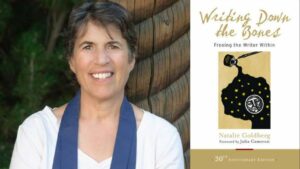 I love Goldberg's insights, advice, and sense of humor. She shares down-to-earth wisdom for writers and has many stories to illustrate it. Although I am not reading her book to become a writer, the more I am reading it, the more I feel writing practice, as Goldberg calls it, is no different from going on a journey to acquire a language.
In one chapter entitled "listening", Goldberg shares how she always thought she was tone-deaf because she couldn't sing. Later on in her life, Goldberg took a singing lesson from a Sufi singing master who told her there was no such thing as tone-deafness. He said:
Singing is 90 percent listening. You have to learn to listen. If you listen totally, your body fills with the music, so when you open your mouth the music automatically comes out of you.
A weeks later, Goldberg could sing in tune and she wrote "I had become enlightened".
You too. Become enlightened. Learn to listen. Speaking French (or any other languages) is 90 percent listening. If you listen totally, your body fills with French, so when you open your mouth the French language automatically comes out of you.
And by the way, singing is also a great way to start speaking French without fear. But start by singing children songs and rhymes. Find out how and why by watching my video – Réciter et chanter
QUOI DE NEUF ?
L'instant Thé
In this new series on YouTube, I spend a "Moment Tea" with exceptional people who share practical tips to acquire another language (and in particular to acquire the French language). #enjoy #trusttheprocess #unepausesimpose
How to prepare well for the DELF B2? I don't like to refer to exams but I know they can useful in our careers or simply our lives so I thought it would be interesting to ask an expert. Noelia Noble prepares her learners to obtain this diploma and she shares her tips to be ready for it. Watch the video here.
How to improve your pronunciation? When you start on your French journey, pronunciation can seem really tricky. You may feel uncomfortable at the idea of "foreign-weird-sounding" words coming out of your mouth! Sarah Shaw has your back. Being an English au pair in France, she found easy tricks to overcome her fear of pronouncing vital words like l'eau. This video is SO useful, watch it here.
Both conversations will surely motivate you to listen, listen, listen. And you can listen to all the Instant Thé episodes as a podcast here. #keepup
Winter live classes
Boost your French and gain confidence.
Starting on January 9, choose from four weekly classes for three different levels!
Build a strong foundation. Acquire the most frequent French words and structures used in everyday conversations. Listen to compelling stories. Acquire a lot of vocabulary and structures effortlessly. Use complex structures to talk about a wide range of topics.
The goal is to develop fluency as well as the ability to process the language spontaneously.
Pam shared:
I have I have enjoyed the Fall 2022 Advanced Beginner live lessons so much! For me, the live classes are the way to go. I'm motivated on Monday mornings to see the "community of French learners", and over time, I have become more relaxed and ready to speak French. My progress has been continual and steady, and I appreciate all the tips for finding level-appropriate material to support "listening and learning" in-between classes. I find the live lessons compelling and best of all, fun. Thanks for all that you do, and I'll see you in 2023!
All classes are recorded, so you can watch at your leisure if you need to miss a class.
Can't make it LIVE? You can purchase the recordings and readings only and go through them at your own time.
Gain New Friends and Get Involved with the French Learners Community. #youarenotalone
Increase your vocabulary and comprehension #storyispower
Reduce your stress #relax
Review of the week
The Adult Stage has been released! It is still very much work in progress and so far, the Introduction (in English) and 6 sessions are available. This stage is specially designed for intermediate learners. It will boost your comprehension as well as your confidence to start speaking. Dive into fascinating content about the History and culture of France.
Ciara who watched the first session about the discovery of Lascaux grotto wrote:
Bravo ! J'adore ça ! Tu es douée, Alice. Tu racontes les histoires d'une façon très intéressante. C'est comme un film ou un roman !
What are you waiting for? Join Us!
Happy French acquisition!