Coucou les French learners,
Just a quick reminder to join us live this Saturday!
LET'S CELEBRATE CHRISTMAS 2022!
Saturday December 17
5pm UK / 6pm France / 12pm EST / 9am PST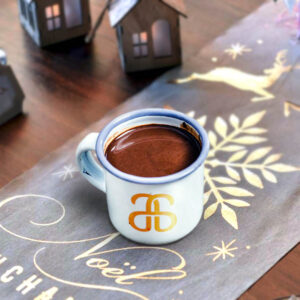 Christmas is such a special moment in the year, let's enjoy it together, as a community.
Let's SING a cheerful song!
This song is from La Martinique. This French island is 7000 kilometers away from France in the Caribbeans and over there they do celebrate Christmas wearing swimsuits on the beach. This song is not a Christmas carol but it is so cheerful, we have to sing it together! So get ready to sing it together and even dance, oh la la !
Let's PLAY games!
How many French words do you know about Noël? Let's have an auction, les enchères and bet how many words you know.
For how long can you explain a French word and have others guess it? Let's see how quick you are explaining a word in French! Of course, you can mime, sing, dance, do whatever it takes to have people guess the right word. Let's be wild!
And let's play BINGO, sorry… Le loto de Noël !
To help you prepare and be the winner ( oui, oui, le grand gagnant ! ) watch my series on YouTube about l'Avent, Advent.
If you are running out of time, Noël en préparation is a series of one minute videos. Each one explains a particular word related to this festive season. Since today is the 15th, do you know what un flocon de neige is?
If you are missing Marie & Médor, watch their adventures juste avant Noël ! In this episode, they are in Laponie, Lapland looking for le Père Noël, Father Christmas but they get lost in the forest!
Listening to words in context help you brain make multiple connections and retain those new words effortlessly. #inputaloneissuffucient
I hope to see you on Saturday. The more, the merrier!
Everybody is welcome, it is free to join. Click here.
Gain New Friends and Get Involved with the French Learners Community. #youarenotalone
Increase your vocabulary and comprehension #storyispower
Reduce your stress #relax
Communicate with real people in French #youcandothis

Review of the week
Barry who has finished the Baby Stage wrote :
Je suis ravi d'avoir fini le Baby Stage en juste peu de temps. I already had a basic knowledge of French … donc la lecture et la compréhension ont été assez faciles pour moi … Still, I was surprised by how much fun this week has been, and I continue to be amazed by your website and how you have layered and sequenced the stories even as you continue to build out the content … J'ai hâte de continuer le voyage (beaucoup plus lentement, bien sûr.) Merci !
What are you waiting for? Join us now and make real progress in French for as little as 5 Euros/month!
Happy French acquisition!