Coucou les French learners,
Today, I have received the most uplifting message from Christine, a dear member and committed learner:
On this day of thanksgiving (USA), I especially thank you for your special companionship on my French language acquiring journey. I wouldn't be where I am without your presence in my life on my journey.
And the best illustration too! (Click on the picture to see it better!)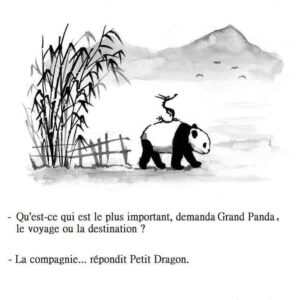 Acquiring French (or any other languages) is a long journey.
The first stop is to understand.
The next stop is to speak. This is for most of us, the dreading stop!
You want to speak, you feel you're ready, you understand a decent amount of vocabulary already and then you think:
I don't know how to say it. I can't pronounce that word. What if s/he doesn't understand me? What if I don't understand?…
How to overcome those negative feelings? How to dare speaking even if…?
My answer is to dare no matter what! Cultivate the DARING ATTITUDE.
Start by answering silly questions! Yes that's right, silly questions!
That is what upper beginners do in my live classes. They answer wacky or nosy questions, des questions farfelues ou indiscrètes. We are having fun with those questions because they are not "formal" questions. Answering those types of questions releases tensions. There is no right or wrong answer, really! Once the pressure is gone, you are ready to speak about anything!
I bet you will feel better and you will dare to speak French to some random person! #enjoytheride #trusttheprocess
QUOI DE NEUF ?
L'instant Thé
Guess what? Devinez quoi ?! This week we talked about daring to speak with Rachel Salvi during l'Instant Thé.
How do we overcome fear to start speaking? In this video, Rachel gives useful concrete advice to change your attitude and to go for it without fear or doubt!
This conversation will surely boost your confidence to start speaking French no matter what!
And you can even listen to all the Instant Thé episodes as a podcast here. #keepup
The Accountability Hour
There is still time in 2022 to invest in your French!
" Une heure en Français " – A productive French hour with 100% accountability!
C'est simple comme bonjour et ça marche toujours !
How does it work?
Join us LIVE. Let's start with a motivational quote in French.
Let everyone know what you'll be doing in French for the next 30 minutes: reading a story, watching a video, listening to a podcast…
Acquire French on your own with the LIVE room open. (Psst! This is where the accountability magic happens!)
Share your experience with the group: it can be a word, an expression, a question, a WOW moment…
Next session is on Friday at 8am in France. If you're looking for a kick in the pants or just want a fun interaction – this is it. Join us!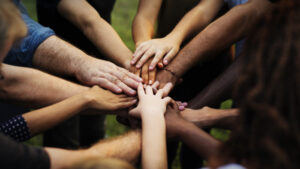 Gain New Friends and Get Involved with the French Learners Community. #youarenotalone
Increase your vocabulary and comprehension #storyispower
Reduce your stress #relax
Communicate with real people in French #youcandothis
Review of the week
The Adult Stage has been released! It is still very much work in progress and so far, the Introduction (in English) and sessions 1, 2 and 3 are available. This stage is specially designed for intermediate learners. It will boost your comprehension as well as your confidence to start speaking. Dive into fascinating content about the History and culture of France.
Christine who just watched the first session about the discovery of Lascaux grotto wrote:
The graphics in this video are beautiful, and your account of the grotto's history is very interesting. I was unaware of this grotto, so now another place to visit while in France… someday. I continue to learn so much by being a member of this community. What a benefit. What a treasure!
What are you waiting for? Join Us!
Happy French acquisition!