Coucou les French learners,
On May 1st, it is common for French people to offer lily of the valley flowers, le muguet to their loved ones as a symbol of good luck and happiness. So here is un brin de muguet for you, my dear learners!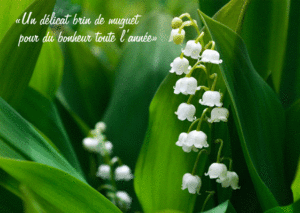 Read and understand this sweet poem together, Le muguet by Maurice Carême. Go through it for free here.
What if you could understand French, effortlessly and enjoyably? Imagine yourself in one year from now being able to have a thoughtful conversation in French, watch French films, and understand the lyrics to your favorite French songs.
It is all possible with our unique approach. Just sit back, relax, and let our engaging stories do the work for you.
Jonatha wrote to me:
I'm dyslexic and trying to learn French. My brain can't cope with remembering words and grammar it's very frustrating. I struggle with English most the time! I see the word on the screen and have trouble writing it down even with it in front of me.
However, your videos are a breath of fresh air. I have now watched, listened and understood all the baby-stage videos.
I believe in the process 100%. I feel like the material is going deep into my subconscious – without the need to memorise long lists. For me learning this way is better than Duolingo.

This approach works with everybody because it is how you acquired your mother tongue. We use compelling stories and comprehensible input to help you understand French quickly. And then speak it spontaneously.
No more boring grammar lessons or tedious vocabulary drills!
When you understand the message, your brain will subcounsciously remember the words and structures. It works with all human beings. #trusttheprocess
Join our Accountability Hour next Monday!
You still don't know where and how to start? I have your back!
Join us live on Monday! I will be there to explain you how to start your journey towards French language fluency.
This is a special hour which brings real joy.
As a community of of passionate French learners, we start start by answering questions, sharing something we enjoyed in French.
We then read a story together, sing a song, play games, write a story together. We spend time together all in comprehensible French.
The French Accountability Hour is happening every single week on Mondays.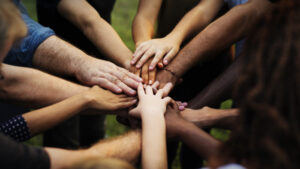 If you're looking for a kick in the pants or just want a fun interaction – this is it! Join us here!
Gain New Friends and Get Involved with the French Learners Community. #youarenotalone
Increase your vocabulary and comprehension #storyispower
Reduce your stress #relax
Communicate with real people in French #youcandothis
Dive into the History of France
There are now 18 sessions in the Adult Stage for intermediate learners. Those sessions which come with exclusive videos, transcripts and audio give you the chance to dive deep into French History.
Knowing the History of France is incredibly helpful in understanding the French language. French culture and language are closely intertwined. Knowing about French history, art, and literature provide valuable context for understanding the language and its nuances.
It also gives you a deeper appreciation for the French language and culture. By understanding the historical context behind the language, you gain a more comprehensive understanding of its beauty and complexity.
Start now with the amazing story of the discovery of la grotte de Lascaux! Watch this exclusive video for free right now.
Review of the week
Angus shared in the Community Chat:
I listen to French stories everyday. It is my confiture! I don't care how many times I have heard them, I never tire of them. I enjoy them as much today as the first day I heard them, often times more. Even after so many times hearing them, always something new will come out or a phrase or word will pop out. I just love it!
What are you waiting for? Join us now and make real progress in French! You will gain:
CLARITY: progress step by step through stages and make French become clear to you.
COMMUNITY: meet weekly and keep yourself accountable through the most caring and invested community.
TRANSFORMATION: feel empowered. Be fluent in French. Transform yourself and get a new soul.
Happy French acquisition!
P.S. Got friends, family, colleagues and clients who want to become fluent in French? Share this with them, they'll thank you for it!