Coucou les French learners,
To be honest, watching and hearing my own children speaking Portuguese fluently and sounding like natives, makes me feel discouraged sometimes. I struggle to speak Portuguese fluently, to let it flow!
I was reading this interesting article about the best age to learn a language. I mean I am 44 and I am starting to wonder if the adage "it is best to start young" is true. Yes, it is easy to think that children are like sponges. They can learn a language fast and sound like natives.
However, when we start observing young children, we notice that they not learning, they are acquiring. Children excel at learning implicitly: they can listen to native speakers and imitate them. And this requires a lot of time, which as adults we don't have.
On the other hand, as adults, we have longer attention spans and crucial skills like literacy that allow us to continually expand our vocabulary, even in our own language.
In fact, age doesn't matter as we discussed with Florence Calvez during l'Instant Thé. What matters is the method – acquisition and time.
Remember you are not learning French, you are acquiring French. Take time to read and listen to comprehensible French and try to imitate native speakers.
Don't feel discouraged and like myself, keep going! #trusttheprocess
QUOI DE NEUF ?
There is still time in 2022 to invest in your French! On Monday, we had our first " Une heure en Français " – A productive French hour with 100% accountability!
C'est simple comme bonjour et ça marche toujours !
The French Accountability Hour is as easy as pie and works every time! It is the best way to keep up because you get to share your experience with other French learners.
On Monday, we started by looking at a funny French expression " prendre la poudre d'escampette " and thanks to Pam, I learned that there is a similar expression in English "to take a powder". Martina from Slovakia shared the Slovak expression which is similar to another French expression " prendre les jambes à son cou ".
Everybody then went to acquire French on their own by reading a story or watching a video. Although everybody was muted, the LIVE room was open and this is when the accountability magic happened!
At the end, we all came back and again, magic happened! Graham told the story " Les longs cheveux " (watch the video on YouTube) in his own words, all in French! It was amazing to hear how Graham had made so much progress. After watching the Teen Stage – session 10, Aaron told us his favorite season was fall because of the bonfires happening in England. We all practiced saying the word feuille – leaf.
Leaving this incredible group of humans, I felt rejuvenated and ready to tackle my Portuguese!
Next session is on Friday at 8am in France. If you're looking for a kick in the pants or just want a fun interaction – this is it. Join us!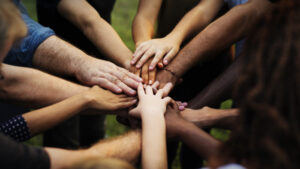 Gain New Friends and Get Involved with the French Learners Community. #youarenotalone
Increase your vocabulary and comprehension #storyispower
Reduce your stress #relax
Communicate with real people in French #youcandothis
Review of the week
Wally shared:
This course is brilliant. Not only am I learning with pleasure what I have struggled with intermittently for years but the web site provides a whole world to explore. Just wonderful. Many, many thanks!
What are you waiting for? Join Us!
Happy French acquisition!