Coucou les French learners,
Le mois de novembre est là !

"November is beautiful month. But one has to like grey. And the eye has to catch its light." Gilles Vigneault is a poet from Québec.
The year is drawing to an end but although there are only two months left, there is still time to invest in your French.
Maybe your 2022 objective was to become fluent in French and you are feeling discouraged. Don't be!
The path to fluency is long. It takes time. Hours and hours of listening and reading. You have to take up the habit! Watch my video on YouTube – prendre l'habitude.
But as Angus commented in the Community Chat yesterday:
Acquiring a language, it seems, is not just learning the words and the grammar but also more fundamentally how things are experienced and expressed. I can see why they say having a second language is like having a second soul.

My wife asked me to listen to a French guy talking and translate what he said. I understood in my head what he was saying but I had to think for a bit to find a way to express what he had said in English.

I have this strong feeling like that second soul is calling me, urging me to step into it's shoes and out of my English speakers shoes. It's like saying, stop trying to see French through your English speaker's glass wall. Jump over and let yourself be truly in our world. Now, I just need to undo my double knotted English shoelaces and promise I will be right there with you.
#trustheprocess #inputaloneissufficient
QUOI DE NEUF ?
There is still time in 2022 to invest in your French!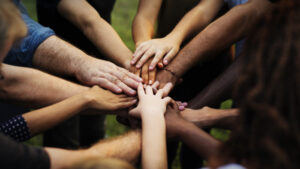 Join me and other community members and give yourself an amazingly productive French hour with 100% accountability!
Mondays
5pm UK / 6pm France / 12pm EST / 9am PST
Fridays
7am UK / 8am France
C'est simple comme bonjour et ça marche toujours !
The French Accountability Hour is as easy as pie and works every time!
Join us LIVE. Let's start with a motivational quote in French.
Let everyone know what you'll be doing in French for the next 30 minutes: reading a story, watching a video, listening to a podcast…
Acquire French on your own with the LIVE room open. (Psst! This is where the accountability magic happens!)
Share your experience with the group: it can be a word, an expression, a question, a WOW moment…
The French Accountability Hour will be happening every single week on Mondays and Fridays.
If you're looking for a kick in the pants or just want a fun interaction – this is it!
We kick things off Monday November 7th.
Gain New Friends and Get Involved with the French Learners Community. #youarenotalone
Increase your vocabulary and comprehension #storyispower
Reduce your stress #relax
Communicate with real people in French #youcandothis
Back on YouTube
Watch out for our new series on YouTube starting this Saturday.
It is called l'Instant Thé which is a play on words. L'instant T literally means "at a given moment" but we have played with the letter T and the word thé (tea) which sound the same in French!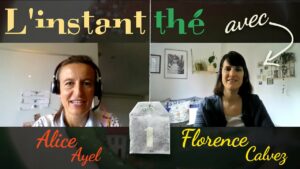 On Saturday, I have tea with Florence Calvez who happens to teach Spanish in France. She will share her own experience acquiring English and Spanish. She will also share tips and tricks to keep up acquiring French or any languages whether you are still young or you feel you are too old! In fact, your age doesn't matter…
Review of the week
Maria who has finished the Teen Stage, yeah!!! shared:
Merci Alice pour cette belle expérience ! Je trouve que mon français s'est beaucoup amélioré. Je suis très motivée pour continuer à acquérir le Français naturellement. J'attends avec impatience l'Adult Stage.
Watch the introduction video in English to understand better how the Teen Stage works.
What are you waiting for? Join Us!
Happy French acquisition!