Coucou les French learners,
Last week was full of events as we commemorated the end of la Grande Guerre, the Great War. The 11th of November is un jour férié, a bank holiday in France and it celebrates l'Armistice which happened in 1918, on the train in Compiègne in the middle of the forest. Read more here.
November, 11 is also the celebration of Saint Martin de Tours, also known as Martin the Merciful because he used his sword to cut his cloak in two, to give half to a beggar clad only in rags in the depth of winter in the town of Amiens, in the North of France. Read more here.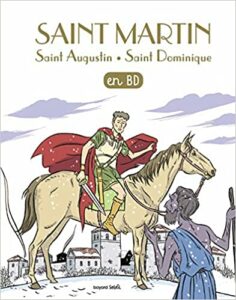 To celebrate Saint Martin, we read about his incredible life in the live Beginner class last Friday. We read une bande dessinée, a comic book about his life. Read it here.
After the class, Christine sent me a message:
Are there BDs ( Bandes Dessinées ) you would recommend I check out? This was my first exposure to them in French. I truly enjoyed it.
Comic books are fun and full of illustrations that appeal to young and old people. These types of books have several benefits that can't be found in more "serious" books.
Comic books boost your confidence as a French reader. If you are struggling reading a book in French, the illustrations give you cues that enable you to read faster. You can extract the meaning of difficult words by looking at drawings and illustrations. No need to constantly check a dictionary.
In general, drawings make meanings easier to understand. Once you have read comic books in French, you will be ready to start reading chapter books. The whole reading experience won't be frustrating anymore.
This might surprise you, but reading comics can be a potent way of helping you write better essays, stories, and statements. Reading comics leads to writing because it shows you how to reflect on ideas and emotions. Watch my video on YouTube about writing freely before speaking.
Comic books are fun. Reading a comic book can be the mental break you need. It will help you feel refreshed so you can later focus on more serious stuff. Comics are not always about superheroes and fun themes. There are a lot of genres and themes that you can explore. So why don't you grab a comic book? #enjoy
Here are my favorite ones:
Boule et Bill relates the homely adventures of seven-year-old boy Boule and his dog Bill. Each page is a mini story with a fun ending. I have to say Les aventures de Marie et Médor are largely inspired by Boule et Bill which I loved reading when I was young.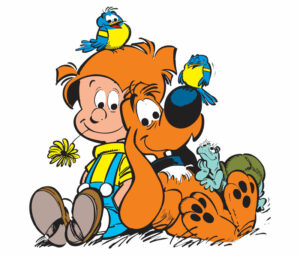 Lucky Luke takes place in the American Old West of the United States. It stars the titular Lucky Luke, a gunslinger known as l'homme qui tire plus vite que son ombre, the "man who shoots faster than his shadow", and his smart horse Jolly Jumper. It is really funny too! Lucas has great videos reading and at the same time explaining the adventures of Luck Luke.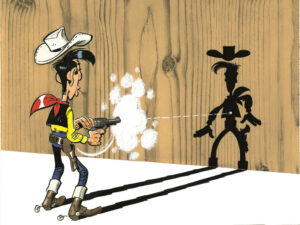 #inputaloneissufficient
QUOI DE NEUF ?
L'instant Thé
This week we talked about confidence with Céline Perreard-Allen during l'Instant Thé.
As adult learners, we lack confidence. We are afraid of making mistakes. We are afraid of mispronouncing words. We fear not being understood.
How do trust ourselves to speak? Prepare and anticipate. In this video, Céline explains how she prepares her students to cope with day to day conversations.
This conversation will surely boost your confidence to start speaking French no matter what! And you can even listen to all the Instant Thé episodes as a podcast here. #keepup
The Accountability Hour
There is still time in 2022 to invest in your French!
" Une heure en Français " – A productive French hour with 100% accountability!
C'est simple comme bonjour et ça marche toujours !
How does it work?
Join us LIVE. Let's start with a motivational quote in French.
Let everyone know what you'll be doing in French for the next 30 minutes: reading a story, watching a video, listening to a podcast…
Acquire French on your own with the LIVE room open. (Psst! This is where the accountability magic happens!)
Share your experience with the group: it can be a word, an expression, a question, a WOW moment…
Next session is on Friday at 8am in France. If you're looking for a kick in the pants or just want a fun interaction – this is it. Join us!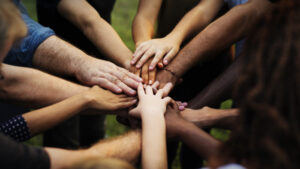 Gain New Friends and Get Involved with the French Learners Community. #youarenotalone
Increase your vocabulary and comprehension #storyispower
Reduce your stress #relax
Communicate with real people in French #youcandothis
Review of the week
David shared after watching the Baby Stage – session 2:
Merci beaucoup! My first day and first story in French and I feel that I am gaining a lot with new words and phrases… Learning without getting bored.
What are you waiting for? Join Us!
Happy French acquisition!