Coucou les French learners,
Comment ça va ? Comment allez-vous ?

My dream would be to cross/meet someone wearing a tee-shirt on wich would be written " Very good. Thank you and you?"
In an attempt to send you a weekly newsletter, I have decided to go for a new format:
One tip to acquire French and/

or

about language acquisition in general;
What is new? To keep you informed about the new resources.
Sounds good?
#trusttheprocess
Le contexte est important
Last year in Agen, I met a wonderful polyglot and English teacher Ariel Goodbody who happens to have a great YouTube channel and website Easy Stories in English to acquire English the natural way.
In her recent video on the science of language acquisition and why you can't know every word, Ariel explains clearly why context is WHAT MATTERS. Ariel says: " even with native speakers, there are psychological studies where they put electrodes in people's brains and they say certain words. Words that are linked to the context, to what is happening, those words, the brain understands and can produce more quickly."
" Our brain IS NOT a dictionary!" Ariel makes a very good point. It is not possible to know EVERY word. As a native French speaker, I don't know every French word! In fact we do NOT NEED every word to COMMUNICATE. Ariel gives the example of the pencil case. Remember? When you were at school and the language (French or English or German…) teacher taught you how to say all the things you had in your pencil case?!
I do remember this when I was a French teacher in a secondary school in Leicester, UK! How boring for my students! Were those words useful outside of school?! Were they even easy to remember since they were taught out of context?
When I helped a 12 years old French learner to remember the vocabulary list about all the different rooms in a school, I made up a story with her about a girl who is looking for her hamster which disappeared in her school. We had fun co-creating this story and the (boring!) words the learner had to memorize certainly stuck in her mind.
when you are a member, read and listen to the story Le hamster de Nathalie.
TIP of the week
HEAR and READ WORDS IN CONTEXT. Your brain makes multiple connections and retain the new words.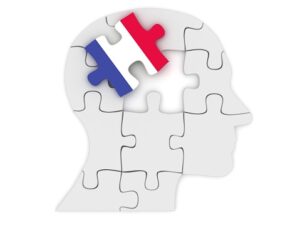 #inputaloneissufficient
QUOI DE NEUF ?
A NEW FREE VIDEO in the Culture francophone : Qui est ? series about French novelist, Alphonse Daudet who wrote beautifully about the Provence region.
The full video script is available to read and to listen to when you join the French learners community. AND you can also read and listen to one of Daudet popular stories about an old miller in Provence who doesn't want to close down his mill, Le secret de Maître Cornille.
How to ask a question which leads to a yes/no answer? How to use to want in French ? Watch session 23 of the Baby Stage online self paced course for beginners.
More sessions coming soon to build a STRONG FOUNDATION: how to ask KEY questions and how to use most frequent structures and verbs (there is/are, to be, to have, to go, to think, to want, to like, to be able to). ALL via STORIES.
REVIEW of the week
Russ who joined us recently says: " Alice, I just finished studying unit 6 and I am ready to move on to unit 7 of the Baby Stage. I happen to glance at the French paragraph and it read "Si Vous Parlez Français" and I read it direct without translation in my mind. I also subscribe to Sirius FM and I listen to a French Canadian station. Today while I was driving somewhere, and I happen to look down at the name of the song being played and the title was "Je Pense a toi". Then the next song came on and it was " La Vie est comme un livre". I was delighted that I could read and understand the text."
Happy French acquisition!
P.S. Got friends, family, colleagues or clients who want to become fluent in French? Share this with them, they'll thank you for it 
P.P.S Do you want to spend a whole week with me acquiring French? Join my intermediate French class on Zoom in July organized by Express Fluency and the wonderful Elissa McLean. MORE INFO HERE. If you are a language teacher, use code: alice to get $20 off.