Coucou les French learners,
As the French Beginner Intensive Week ended, I got this question coming up:
How can I improve my conversational skills?
As most language learners, you may find yourself struggling to hold meaningful conversations in French. You want to speak French but you stumble over grammar, you struggle to find the right words, or you feel overwhelmed by translation.
Fear not! My 3 proven techniques will empower you to engage in natural and effortless conversations. Gain the confidence to express yourself fluently in French. Whether you're a beginner or seeking to level up your existing abilities, these techniques will pave the way to engaging conversations in French.
Expose Yourself to Comprehensible Input
At first glance, surrounding yourself with French input may seem counterproductive. You may think you have to practice speaking French in order to speak French! However, applying this counterintuitive approach aligns with the principles of the Comprehensible Input hypothesis and language acquisition.
The idea behind this approach is to expose yourself to comprehensible input, which refers to language input that is understandable. You can understand the message, the gist of it but not every detail. You gradually familiarize yourself with the language's patterns, vocabulary, and structures. Over time, your brain becomes more adept at processing and understanding the language, leading to improved conversational skills.
You develop a subconscious understanding of the language that aids in natural conversations. It helps train your brain to think in French and enables you to respond more spontaneously, without relying on translation or excessive mental processing.
While it may feel counterproductive in the short term, surrounding yourself with French input ultimately accelerates language acquisition and enhances conversational skills.

Try out by listening to the fox and the goat's fable – Le renard et le bouc. It is a Baby Story which means it is a story for beginners. Listen to it, then read it. Turn on the Audio sync view button to listen to it and read it at the same time. Your goal is to understand the gist of the story. Enjoy this fable for free!
Focus on Meaningful Communication
Instead of fixating on grammar rules or trying to translate every word in your head, prioritize meaningful communication. Allow yourself to communicate using the vocabulary and phrases you have acquired, even if they are not perfect. This approach encourages fluency and trains your brain to think in French, promoting more natural and spontaneous conversations.
Having a meaningful conversation refers to engaging in an exchange of ideas, thoughts, and emotions with another person that is authentic, genuine, and significant. In a meaningful conversation, both participants actively listen, share their perspectives, and strive to understand each other's viewpoints. It goes beyond surface-level small talk and delves into more profound topics, allowing for deeper connections and a sense of mutual understanding.
In the context of language acquistion, having meaningful conversations in French entails being able to express oneself effectively and actively listen to others. It involves understanding and conveying ideas, emotions, and cultural nuances, enabling a deeper connection and a more profound exchange of thoughts and experiences.
To have a profound exchange with someone, you first need a model. Listening to interviews and long conversations in French will enable you to then hold meaningful conversations.
Practice Active Listening and Responding
Actively listen to French speakers and respond to what you hear. This can involve repeating phrases, answering questions out loud, or engaging in dialogues with language partners. By actively engaging with the language, you reinforce your understanding and internalize the language structures, leading to improved conversational skills over time.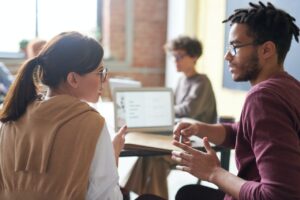 Internalizing French structures involves incorporating them into your subconscious knowledge, making them readily available for use without conscious effort.
Understand the contexts in which specific French structures are commonly used. Language is often influenced by culture and context, so pay attention to how certain structures are employed in different situations. By understanding the appropriate context for each structure, you can internalize them more effectively and use them accurately.
Peter wrote:
I am very enthusiastic about your method (sans effort) and presently I am just starting Teen Stage. You have clearly spent a huge amount of time preparing your video lessons and stories in French. All the other websites I have tried have not worked for me – they are coloured totally by traditional methods – rote learning, rules etc…
What are you waiting for? Join us now and make real progress in French! You will gain:
CLARITY: progress step by step through stages and make French become clear to you.
COMMUNITY: meet weekly and keep yourself accountable through the most caring and invested community.
TRANSFORMATION: feel empowered. Be fluent in French. Transform yourself and get a new soul.
Happy French acquisition!
P.S. Got friends, family, colleagues and clients who want to become fluent in French? Share this with them, they'll thank you for it!
P.P.S I am back on YouTube with a new video every month. Follow my 3 easy tips to understand French with no effort!