Coucou les French learners,
This week-end, the French celebrated le 15 août which was the National Day during the Kings.
I love this special day but…
We have had a rough weekend facing some challenges with our exclusive videos for our dear members.
Quelle angoisse ! Suddenly all the videos disappeared because we had reached the maximum requests. Fortunately, we found a new video hoster and almost all videos are now back, ouf!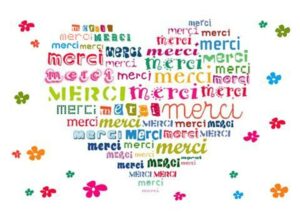 MERCI, THANK YOU for your support and for your patience. We fell truly blessed to have such a CARING, SUPPORTIVE, AMAZING COMMUNITY of French learners and teachers !
AND we put a new layout for the Baby Stage self paced course. It now looks like a calendar. It takes you one month to ACQUIRE the French basics. From how to say "there is" or "there are" in French to understand the difference between savoir and connaître which both mean "to know" (this one is coming very soon!!!).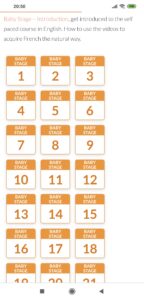 Even if you are not a French novice, this course is perfect to build a strong foundation with tons of input. Watch the introduction to these exclusive sessions taking you on your French journey!
ABUNDANT INPUT
We ACQUIRE another language from input, not from output. This is subconscious language acquisition.
Stephen Krashen and Beniko Mason wrote: " Language acquisition is a gradual process: Each time we encounter a new item in a comprehensible context we acquire a small amount of the meaning (and form). Optimal input must therefore be abundant, providing numerous opportunities for acquisition of new language."
STORIES are a source of abundant input. That is why the Baby Stage self paced course includes a story in each session. From the start of your French journey, you listen to A LOT OF stories.
You get numerous opportunities to acquire the meaning and form of the new words and structures.
AND You have ACCESS to A LOT OF OTHER stories.
TIP OF THE WEEK
GET A LOT OF FRENCH INPUT. When you are a member, here is what we have as suggestions for this week:
LUNDI : Pygmalion
Let's start the week on a smooth note. Read and listen to a Greek myth easy understand when you are at the Baby Stage. Make sure to watch the video at the bottom of the page to help you understand the story better. It is part of the new resources.
MARDI : Jean-Jacques Julier est bavard
Jean-Jacques Julier talks too much. His girlfriend Sophie is fed up with him! Watch and listen to story 25 Trop bavard ! Read the script in the eBook.
MERCREDI : Le cascadeur
An old man is being attacked in Paris but he is not as weak as he seems.
JEUDI :  Le perroquet
what can this intriguing bird do? (glossary included). It is part of the new resources.
VENDREDI : Le diamant de Cendrillon
Cendrillon is a special cat, find out why?
BONUS DU WEEK-END : Qui est Hergé ?
Find out about a famous Belgian cartoonist. Make sure to watch the video too! It is part of the new resources.
QUOI DE NEUF ?
This NEW FREE VIDEO is special to me. It features the Michelin brothers who founded the second largest tyre manufacturer in the world.
This story is very special because part of my family comes from the Auvergne region in the centre of France. Also because my great grand father worked for Michelin. He was in charge of placing les bornes kilométriques, the mileage markers on the road. My father's godmother whose name was Alice worked for Michelin in Stoke-on-Trent, England and years later, I would study at the University in Stoke! Quelle coïncidence !
REVIEW OF THE WEEK
Warren Damron says: " Alice is a legend pour les gens aux États-Unis que est en train d'apprendre le français. Autrement dis, merciiii Alice. T'es toujours une partie de ma journée d'étude. Pour n'importe quoi raison la langue française est très difficile pour les comme moi. ( je suis américain) Mais, chaque jour je me sens en train d'améliorer et tu sais, j'adore cet sentiment amélioration. Bref. Remercie. Votre travail really does make a difference I. My life and so many other. À toutes a l'heure. "
Happy French acquisition!
P.S. Got friends, family, colleagues or clients who want to become fluent in French? Share this with them, they'll thank you for it