Coucou les French learners,
Je suis très très très fatiguée !!!

I am exhausted!
BUT I am also RAVIE, THRILLED because I have just attended the one week conference in the cloud organized by Express Fluency and it was GREAT! C'était génial ! The conference was online via Zoom and I was able to teach French to a super group of intermediate learners everyday for one hour.

Meet the team 🙂
LISTEN THEN SPEAK
For five days (Monday to Friday), my group of 11 learners who were at an intermediate level listened to my stories. On Monday, I explained to the class I wanted to give them rich and abundant French input. I said I was going to do Story Listening, a method developed by Dr. Beniko Mason.
The GOAL of this week class was to ENJOY the stories. There was NO forced output. I told my students I would not force them to speak French if they didn't want to. They could answer me in English or write in the chat box.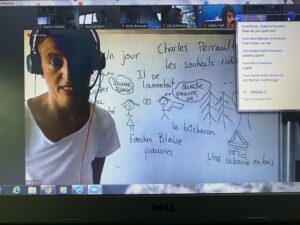 Here are the stories I told them (ALL of them are available to read and to listen to when you are a member):
Nancy Jane who is one of my dearest student and who attended the class said: " I am amazed at how much material we have covered and how much I do understand.  I LOVE the story board!  It is so intriguing to my mind and it keeps me engaged."
Now you might think, there was NOT much spoken interaction although students were at an intermediate level already. TRUE. BUT guess what, you don't need to practice speaking to speak! What you need is RICH input.
TIP OF THE WEEK
GET ABUNDANT INPUT. Speaking will then come out NATURALLY.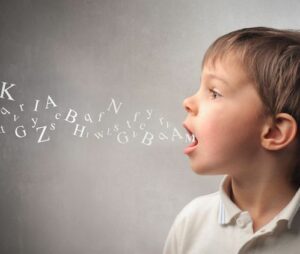 One student in the class was sick so she attended the class but was muted (video and sound off). At the end of the week, her mum told me it was amazing because her daughter would retell her the stories in French after the class! It was "broken" French but she was able to retell the stories naturally in a safe environment.
To practice speaking is counter productive. Speaking is the RESULT of ABUNDANT INPUT.
#inputaloneissufficient
QUOI DE NEUF ?
A NEW FREE VIDEO in the Culture francophone : Qui est ? series about Zaho, a beautiful Algerian-Canadian singer. I discovered Zaho when preparing for last week class. French teacher, Holly Taylor shared this wonderful presentation with different francophone singers and songs. I found Zaho's song, Tourner la page to be beautiful.
Thomas, my 12 years old son continues to share fun and interesting facts about wild animals. These are short texts you can read and listen to when you join the amazing French learners community. There is one about le tigre, the tiger and another one about le jaguar, the jaguar and MANY more coming soon.
There are NOW 27 sessions (which includes a video, the script, audio and glossary) in the Baby Stage online self paced course. This course is specifically designed for French beginners to build a strong foundation and learn about the French culture too. Session 27 is about the many different French expressions with "it costs" when something is very expensive.
REVIEW OF THE WEEK
Andy who joined us says: " I went onto Duolingo again today and took their placement test, I got 2 things wrong out of the 40-50 questions they throw at you, when I was finished it had unlocked 15% of the course. I was AMAZED! The really amazing thing is, I didn't struggle through either of them, it just flowed naturally for me, I didn't need to translate or think about what was being said. My brain just served it up for me."
Happy French acquisition!
P.S. Got friends, family, colleagues or clients who want to become fluent in French? Share this with them, they'll thank you for it 
P.P.S Want to help us deliver more quality French input to ALL? Download the 2020 calendar & 12 bookmarks with positive French quotes! MERCI DU FOND DU COEUR <3