Coucou les French learners,
C'est la rentrée ! It's back to school (or work) in France. This phrase is commonly used in French to refer to the time when people return to school or work after summer vacation. Because, you know, les vacances, c'est sacré ! Holidays are sacred!
As you return to work and daily routines, you may find yourself overwhelmed and not able to keep up with French. Here is a simple tip: take notes!
When you watch a video or listen to a story or even read a French reader, take notes. Taking notes doesn't have to be a tedious overwhelming task. Taking notes can be very simple and fun. Look at @TallyK fantastic notes about Attila et les Huns – Adult Stage session number 4!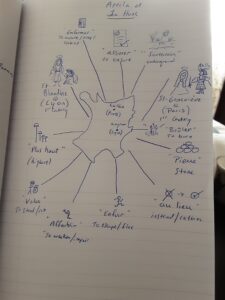 Or these colourful notes by @SnoopyFR88 about Baby Stage session number 22!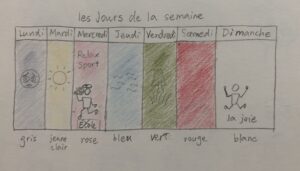 Taking notes is a valuable habit to develop and maintain, especially when striving to acquire French. While the post-holiday period can be busy, note-taking will aid language acquisition.
In your quest to acquire French fluency, the art of note-taking is an often underestimated but it is a potent tool. This practice transcends mere words on paper; it's the key to faster comprehension, improved vocabulary retention, and a deeper understanding of the language's intricacies.
Whether you're just starting or well into your language journey, these insights will empower your French journey. #trusttheprocess
Why Note-Taking Is Your French Learning Secret?
Taking notes helps you retain new vocabulary and grammar rules encountered in French sessions or stories. It prevents the loss of progress during busy times. Notes serve as a record of your language journey, allowing you to track improvements, identify areas for growth, and celebrate your successes.
The act of writing down with a pen and paper reinforces your muscle memory, making it easier to recall and apply what you've read or listened to in practical situations.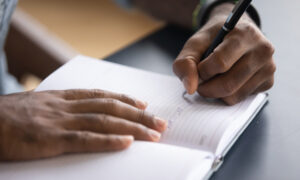 Here is how it works:
Before you start watching a video or reading a story, skim through the video's title, description, and any available subtitles. This gives you a general idea of the topics covered, helping you focus your note-taking.
Set a clear purpose for your note-taking. Are you focusing on key words, grammar structures, the content itself or cultural aspects? Having a specific goal will guide your note-taking process.
Develop a system of abbreviations and symbols to quickly capture information. For example, use arrows for cause-and-effect relationships, asterisks for important points, and "F" for a key figure's name.
Use Visual Aids. Draw diagrams, timelines, or simple sketches to visualize the context, connections, and sequences. Visual aids make complex information easier to understand and remember.
Write down essential keywords and phrases that encapsulate the main ideas. These will help you remember and summarize the content more effectively. Instead of trying to write down every detail, aim to summarize information in your own words. Paraphrasing helps you process and understand the material better. This also helps you not to feel stuck when you don't understand a particular word or expression as long as you understand the gist of the story.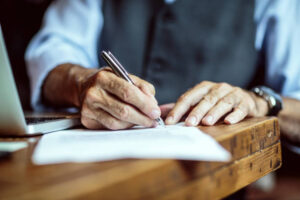 Finally the act of taking notes make you also pause and reflect. Pause the video or stop reading a story at key moments to process and jot down notes. This prevents you from falling behind and allows you to capture important details without feeling rushed.
After watching or reading, take a few minutes to review and revise your notes. This reinforcement enhances your memory retention and understanding.
Remember that efficient note-taking is a skill that improves with practice. Experiment with different techniques and adapt your approach based on what works best for you. Over time, your ability to take meaningful and organized notes will become more refined and effective. #youcandothis

Do you know the love story of La dame aux camélias? Italian composer Giuseppe Verdi set about putting the story to music in the 1853 opera La traviata, with female protagonist Marguerite Gautier renamed Violetta Valéry. Read and listen to this story for free and share your notes!
Diane shared:
For a couple years I went through apps and online courses jettisoning each after a few days. Too much disconnected vocabulary, complicated grammar rules, and verb declination.. BORING!!

Your exquisite combination of entertaining story, just enough explanation, repetition, interesting vocabulary and a very well-laid-out web site have made breezing through 8 baby steps enjoyable and productive. Merci!! Merci!!
What are you waiting for? Join us now and make real progress in French! You will gain:
CLARITY: progress step by step through stages and make French become clear to you.
COMMUNITY: meet weekly and keep yourself accountable through the most caring and invested community.
TRANSFORMATION: feel empowered. Be fluent in French. Transform yourself and get a new soul.
Happy French acquisition!
P.S. Got friends, family, colleagues and clients who want to become fluent in French? Share this with them, they'll thank you for it!