Coucou les French learners,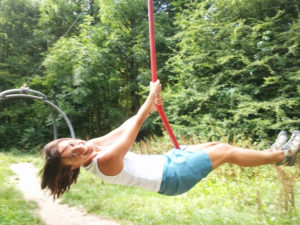 Feel energized!
this week I got one of the best compliments from one of my online beginner learner. We had a productive one hour session. It was fun because we created a whole story together from scratch with many details. The main character, a French woman adopted a female cat who was special because she was bilingual. The cat could speak French and English but the French woman and the cat wanted another bilingual cat and so they went to Spain to find one!
As you can see, it was quite an intriguing story and to be honest I was slightly worn out by the end of it. I was worried my learner would be exhausted too because she had taken in so much French input in just one hour session. I was stunned by her response. She wrote to me: "There is something so special about the way you teach. I finished the language lesson energized, not tired!". It got me thinking: by building up a compelling and comprehensible story, you do not feel you are actually learning, you focus on the content and not on the form and therefore you feel empowered!
Practice listening
In a thoughtful article to scaffold Chinese learning, Diane Neubauer gives great tips to practice listening to Chinese which can also be applied to listening to French!
Among other useful tips, she recommends to "listen to a story many times. Try to listen to it five, ten or twenty times. Unless you're really out of your depth, you will gradually understand more and more."
She also recommends to "use written support. Listening is difficult partly because it's instantaneous; if you don't understand something it's gone after a few seconds. You can't linger on a specific word until you get it like you can with reading. For this very reason, using written support can sometimes be a good idea."
Finally, she highlights a very useful point: "visualise the audio. This is a non-linguistic version of the above. Instead of relying on written support, you rely on other visual input, such as pictures, video or similar."
I have good news for you! My videos include all the points above: you can pause the video, you can replay it as many times as you want. You can also use the transcript to read what I am saying and you have my silly drawings on the board to understand the story.
Watch a comprehensible French story
You can apply those great listening tips right now by watching my last video which is… A love story!!!
You will acquire:
Il est amoureux de = he is in love with
Il veut sortir avec = he wants to go out with
Est-ce que tu veux aller avec moi ? = do you want to go with me?
Je n'ai pas envie de = I don't feel like
What is your favorite activity in your free time? Make sure to leave a comment below this post or on Youtube.
Happy French acquisition!
A bientôt !
P.S. Got friends, family, colleagues or clients who want to become fluent in French? Share this with them, they'll thank you for it 🙂