Coucou les French learners,
J'espère que vous passez de bonne fêtes de fin d'année ! Joyeux Noël ! I hope the end of year celebrations are going well! Merry Christmas!
We enjoyed a great live session last Tuesday. It was the first live event of the community members and it was wonderful to see my dear learners sweet faces!

Avec les membres de la communauté, on chante !
We sang together Bons baisers de Fort de France by La compagnie Créole. This is a popular Christmas song from the French Caribbean island, La Martinique. Over there, Christmas is quite different! We could enjoy a bit of the sun and warmth from this happy song!
The new year is now fast approaching and it is time to think about les résolutions, resolutions.
Objectifs 2021
You want to become fluent in French #youcandothis
Did you know that when you have a specific accountability appointment with another person, it can increase your chance of SUCCESS by 95%!!!
Let's have our FIRST appointment of the year.
Join us for 1 hour LIVE to SET your 2021 French GOALS!
Tuesday 5th January
5pm GMT / 6pm CET / 12pm EST / 9am PST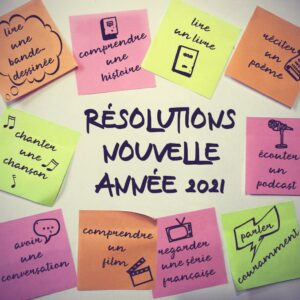 Be ready to
SING a pop song about new year's resolutions
SET your GOALS to become FLUENT in French
SHARE something you do in French that WORKS (I will share with my own tricks to achieve fluency!)
Don't worry if you cannot speak French yet. YOU are here to get French comprehensible and compelling input AND to GET MOTIVATED.
Let's build a STRONG and SUPPORTIVE community!
Can't wait to help you ACHIEVE your GOALS!
#trustheprocess
QUOI DE NEUF ?
We will be back soon on YouTube with new Marie & Médor adventures and new compelling series for beginners and more advanced learners too.
In the meantime, check out the new stories and exclusive videos:
There are now 6 sessions in the Infant Stage online self paced course for upper beginners. There are compelling stories to keep acquiring the most common French structures. Stories are getting longer and include richer input but no worries! The Baby Stage prepared you to understand more complex stories.
After watching session 3 to acquire devoir, to have to, Andy says: " I can't believe how quickly 30 minutes went by…."
There are also NEW vocalizing sessions to boost your confidence to start speaking French.
I share with you phrases to repeat because infants start making sounds and saying words and short sentences. They are getting ready to speak. The same applies to you. You can get ready to speak by repeating after me short and fun phrases. Again, there is NO need to memorize them. It is just a way to boost your confidence and HAVE FUN!
REVIEW OF THE WEEK
Liva who is doing the the Baby Stage says: " I have not had any other exposure to French yet I now talk in French every day.  I make mistakes but, with joy and confidence (and intonation I've learned from Alice), I tell stories, and discuss daily activities.  It's such a pleasure to see Alice's method working!"
#inputaloneissufficient
Happy French acquisition!
P.S. Got friends, family, colleagues or clients who want to become fluent in French? Share this with them, they'll thank you for it!
P.P.S Want to boost your French next year? Join me at Express Fluency for a weekly beginner class and intermediate class.