Coucou les French learners,
Bonne fête du Premier mai ! C'est  le temps du muguet.
Back on 1 May 1560, King Charles IX of France was presented with lily of the valley (muguet in French) flowers as a lucky charm. The King appreciated the gift so much that he decided to gift the flowers to every lady of his court every year on 1 May. At the beginning of the 20th century, men started to offer lily of the valley flowers to women to express their affection.
Listen to beautiful actress and singer, Danielle Darrieux singing the jazzy, Le temps du muguet.
These days, it has become custom to give a sprig of these flowers as a token of appreciation to close friends and family members on Premier mai. For one day each year, the French government allows the tax-free sale (This has to do with French bureaucracy!) of lily of the valley flowers on the street to promote this tradition and ensure its continuation.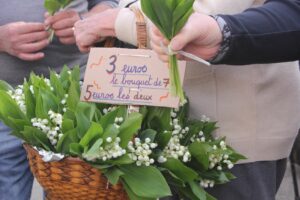 QUOI DE NEUF ?
A lot is happening right now!
Le club de lecture: your chance to interact!
A couple of weeks ago, we had another wonderful  live book club chatting about Theresa Marrama's scary story, La Maison du 13 rue Verdon! We shared shared some great stories about haunted castles and places!
Read about the most haunted castles in France in the presentation I shared during the event.
Watch the replay in case you missed it.
Next live book club will be on Saturday May, 8. We will be talking about the true life of basketball player, Kobe Bryant. It is another brilliant book written by Theresa Marrama, Kobe, naissance d'une légende. This story takes Kobe from shooting hoops in a church playground in Italy to playing for the LA Lakers in the NBA.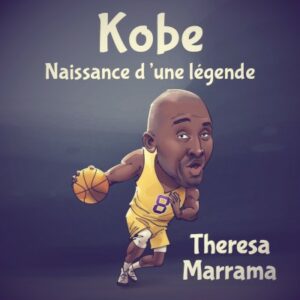 JOIN US as we talk Kobe's childhood in Italy and we share our experiences about living in another country.
#youarenotalone
La pause café: your chance to listen!
The new series, La pause café is going well.
Thank you for all your positive feedback. It is encouraging to feel supported by such an incredible community of language learners!
In this series, I interview special guests about language acquisition, moving to another country, being a language teacher and learner and other fascinating topics. This series is perfect for intermediate learners. You get to listen to a natural and interesting conversation in French!
My recent guest is such an inspiration! Rachel comes from the North of England but she speaks French fluently as well as other languages! In this fun one hour interview, Rachel shares many useful tips to acquire a language without stress and with pleasure.
If you are acquiring English, subscribe to Rachel's wonderful YouTube channel!
We are working hard! We are aiming at publishing a new Infant Stage session weekly! The goal is to reach 31 sessions just like the Baby Stage. So it takes you 2 months to reach an upper beginner level in French.
The Infant Stage is for advanced beginners who have completed the Baby Stage. This stage continues to make you acquire the most common structures as well as how to tell the time or how to talk about the weather. Each session includes A STORY to help you become fluent in French joyfully without having all the pain to learn grammar rules nor word lists.
STORIES make you ABSORB the French language the PAINLESS way!
#trusttheprocess
REVIEW OF THE WEEK
We have just added a new feature to our stories to adjust the speed of the audio. You can listen to a story faster or slower according to your comprehension needs.
Tina says: " Merci beaucoup Alice. Vous avez ainsi gentiment ajouté le bouton de contrôle de vitesse pour les stories !!! Je suis très émue Alice. La communauté peut désormais écouter les histoires à une vitesse plus rapide ou plus lente en fonction de ses capacités d'écoute !!! This is the best website EVER!!!"
What are you waiting for? Join us now for as little as 5 Euros/month (so the same as getting a nice drink)!
Happy French acquisition!
P.S. Got friends, family, colleagues or clients who want to become fluent in French? Share this with them, they'll thank you for it!