Coucou les French learners,
En avril, ne te découvre pas d'un fil !
This is a classic French proverb: even though it's officially spring and the weather is warming up, it's still too early to shed your warm clothes. Well… Over here, in Portugal we have been lucky with glorious weather but let's be cautious, it is still early spring!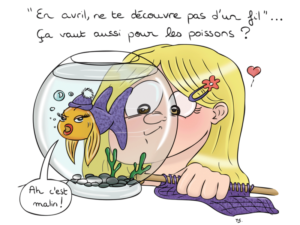 Does it also work with fish? Ah, that's clever!
Le club de lecture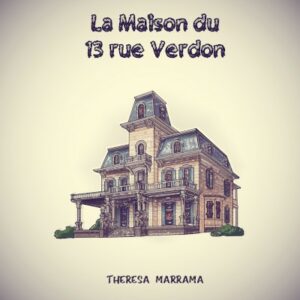 On Saturday 17th April
6pm GMT / 7pm CET / 1pm EST / 10am PST
Cheryl and her mother have just moved into an old house on Verdon Street. From the minute they pull into the driveway, Cheryl is struck with a strange feeling. In the first couple of days on Verdon Street Cheryl is plagued by strange noises and sightings that force her to believe that the house is haunted, a feeling that her mother does not share. Then, when Cheryl's best friend Lara visits for the weekend, she experiences similarly strange things. Will they be able to uncover the truth before it's too late? 
This book is the starting point of another enriching conversation. We will be sharing our own experiences with fears and mysteries… It is always so stimulating to share ideas and opinions in a safe and caring environment. I cannot wait, j'ai hâte !
Gain new friends #youarenotalone
Increase your vocabulary and comprehension #readingispower
Reduce your stress #relax
Communicate with real people in French #youcandothis
QUOI DE NEUF ?
I am back on YouTube with a new series, La pause café.
In this series, I interview special guests about language acquisition, moving to another country, being a language teacher and learner and other fascinating topics. This series is perfect for intermediate learners. You get to listen to a natural and interesting conversation in French!
My first guest is from Québec so you can compare our ways of speaking! Hélène Cormier has been teaching French for more than 20 years. She has lived in 6 different countries and now lives in Sofia, Bulgaria. Three years ago, she started to make comprehensible videos for intermediate learners. Her YouTube channel makes you travel and acquire des expressions québécoises. I am myself learning a lot about pronunciation and vocabulary from Hélène's videos!
When you are a beginner, start with the Baby Stage to acquire the French most used structures in everyday conversations. There are 31 sessions to watch, read and listen to so that you acquire French effortlessly. No need to memorize, your brain will do the work for you!
And there are now 11 Infant Stage sessions! This is for advanced beginners who have completed the Baby Stage. This stage continues to make you acquire the most common structures as well as how to tell the time or how to talk about the weather. Each session includes A STORY to help you become fluent in French joyfully without having all the pain to learn grammar rules nor word lists.
STORIES make you ABSORB the French language the PAINLESS way!
REVIEW OF THE WEEK
Fabio from Brazil who joined our last book club says: " Le club de lecture était tout simplement génial. C'était tellement cool de voir des francophones du monde entier. Ça me manque déjà. Merci, Alice et tout le monde dans la communauté des French learners. "
What are you waiting for? Join us now for as little as 5 Euros/month (so the same as getting a nice drink)!
Happy French acquisition!
P.S. Got friends, family, colleagues or clients who want to become fluent in French? Share this with them, they'll thank you for it!