Coucou les French learners,
Quelle semaine ! What a week!
Input alone is sufficient
My lovely grade 12 IB Spanish learners passed their oral examinations on Thursday. Instead of going through long lists of vocabulary related to the topics they had to talk about, I have been doing Story Listening all along with them. So I have been giving them rich comprehensible input every lesson by telling them tales and folktales. What a surprise it was to have a natural conversation with them during the exam! Of course, they did some errors but they could maintain a ten minutes conversation with me, I was thrilled!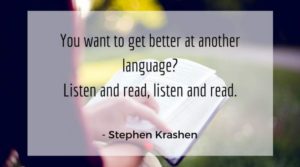 I also had the great opportunity to deliver a talk about the natural approach to a group of language learners coached by Alan Bigulov. It was the first time I was giving an online presentation about how I teach languages and what I believe in. I was so stressed out that my English was terrible! I experienced myself how important the affective filter is and how when you are nervous, your language skills do suffer!
When I explained how to acquire another language, I made the point that there is no need to spend tons of money in a language course or textbooks. All you need to do is to find input which interests you and which you can mostly understand. Your brain will do the rest. Mark Koopman, a language teacher in Japan, explained it very well I think: "Perhaps in the classroom of the future, teachers will not even be "input providers". Perhaps they'll be more like guides – helping students select and best utilize other sources of input."
During the presentation, I also demoed Story Listening in French. A total beginner who didn't know any French understood part of the story, yeah!
It was a very stressful week but I am grateful for what I experienced!
Les anniversaires
Le mois de mars, March in my family is filled with birthdays! My son turning 10 this year was a special one. We kept it low key though because the truth is I don't really like to organize big birthday parties! So my son invited his best friends, they played football outside and then had pizzas. They had the best time!
It was kind of a usual German birthday party slightly different from a French one. And this is what I chose to explain in today's video about Les choses de la vie: the cultural differences between a French and German birthday party.
To know more about a typical goûter d'anniversaire, French birthday party, listen to the children's story Petit Lapin Blanc fête son anniversaire.
I love hearing from you so let me know in the comments how you celebrate a birthday in your country.
Happy French acquisition!
P.S. Got friends, family, colleagues or clients who want to become fluent in French? Share this with them, they'll thank you for it 🙂
P.P.S. Be sure to watch my last story from German author Heinrich Hoffmann about Kaspar à la soupe, a little boy who doesn't want to eat his soup.