Coucou les French learners,
Comment ça va ? La pêche ? la banane ?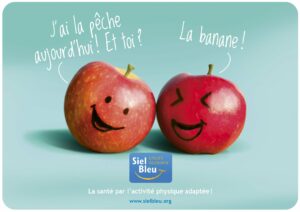 We use many expressions with fruits and vegetables in French… Well lots of expressions with la nourriture, food!!! Have a look at this cool video about French idioms with food.
L'intonation
Recently, I have started a new thing with my French intermediate learners: to VOCALISE.

Can you say that?!
It is super fun and it boosts the confidence to start speaking. Many intermediate learners (including myself in German) have reached the "plateau". They find themselves understanding A LOT. They want to start speaking but they don't feel confident enough. They even feel like they are blocked out. They can't speak.
IT IS NATURAL.
My ANSWER to this is MORE INPUT.
OUI ! MORE OPTIMAL INPUT. Although you do feel the need to speak, you may not be ready to speak yet. Your brains needs more super food, more RICH and ABUNDANT input.
Let's look at a child. A child does not start speaking after a few years. S/he has hours and hours of input daily before s/he starts to speak out words and then later on sentences. The same process applies to YOU.
I love observing my six months old baby Jeanne and I have noticed that she now vocalises a lot. She produces many sounds AND she listens a lot. She does not focus on pronunciation, she focuses on INTONATION.
Polyglot Luca Lampariello explains it clearly: " In authentic spoken language, there are no gaps between words like there are spaces on a written page. The sounds all run together in subtle ways, and it is up to our brains to separate the words in our heads…
In linguistics, this is called "connected speech". It is extremely important when it comes to understanding spoken language."
"Connected speech" is part of intonation and it is also super important when it comes to speaking. Much more than pronunciation, intonation patterns will help you speak "the French way". These are " those subtle changes in pitch and tone that occur naturally when we speak".
TIP OF THE WEEK
Train your French intonation.
Luca Lampariello has put in place an affective system to read, listen and practice intonation.
AND the SUPER GOOD NEWS is there is now a NEW FEATURE on the membership to listen WHILST read what your listening to in French. It is the button Audio sync view at the top of each story. When you push this button and you play the audio MP3, you will see the text appearing.
So what are you waiting for? Start focusing on French intonation NOW!
QUOI DE NEUF ?
We are back on YouTube with a NEW Marie & Médor series! This time Marie and her dog, Médor go out to the countryside in Normandie ( as most Parisians do). Alongside those two adventures, you also get to find out about French fun facts and culture in a NEW Un peu de culture series. The first episode is about the mythical 2CV.
When you are a member, you get to read and listen to the script. Also read and listen to Marie & Médor adventures in the present tense AND in the past tense.
AND there are many new stories and exclusive videos!
There is also the NEW PDF Book about 20 REAL LIFE French speaking famous people who changed the world. These are the 20 scripts from the series Culture francophone : Qui est ? on my YouTube channel.
ALSO included the AUDIO recorded by my Dear Man so you get to listen to 
a male's voice.
Until the end of October, get 20% OFF when you type CADEAU.
BUT when you are a member, you get to
 download it for FREE
 (as well as all the other books!!!) SO 
JOIN us NOW
!
REVIEW OF THE WEEK
Warren Damron who is a member says: " IF YOU WANT TO IMPROVE YOUR FRENCH SUBSCRIBE TO HER WEBSITE! If you are serious about improving your French she has many resources on her website. I first subscribed a few months ago and it helped me so much to improve my reading level, as well as listening. I can now read and listen to news in French. I suggest using her website no less than an hour per day, and you will see results and she will help you gain the ability to transition to media made for natives. I still use her website along with franco media in my routine everyday. Stay strong French learners! We are all in this together and YOU CAN LEARN FRENCH."
Shout out to Members! SHARE YOUR EXPERIENCE. SHARE YOUR JOURNEY.
Tell us about YOU, how you feel, your favorite session, your favorite story, word and/or expression in a short video on Flipgrid. IT IS SUPER DUPER EASY! AND It helps build a CARING COMMUNITY of French learners.
Happy French acquisition!
P.S. Got friends, family, colleagues or clients who want to become fluent in French? Share this with them, they'll thank you for it!