Coucou les French learners,
Brr… Il fait froid, It is getting cold !

Il fait un froid de canard !
In the advanced beginner class on Monday, we talked about different kind of delicious soups. It was the perfect opportunity to use the little word en
– j'ai déjà mangé de la soupe
– j'en ai déjà mangé.
This word can cause confusion BUT it is used all the time in day to day conversations. View the presentation here.
A few years ago, I  showed you how I prepare a good vegetable soup, une bonne soupe de légumes. During the cold months, the French traditionally have a soup at dinner time as a starter. Therefore I usually prepare a big soup over the weekend for the week to come. The traditional French soup uses basic vegetables such as leeks, carrots and potatoes but I usually mix and match according to the season.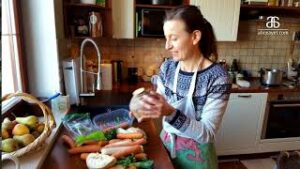 In this video, I showed you vegetables, kitchen utensils, and above all, surtout my life saving pot: la cocotte-minute !
Et vous ? Vous aimez la soupe ? Vous en mangé souvent ?
QUOI DE NEUF ?
Comment rester motivé ?
To help you start well into the year, we have designed a new series of videos. These videos will motivate YOU to acquire French toute l'année, all year long. Each video focuses on one tip or trick to keep acquiring French no matter what!
Our last video helps you to start on your French journey. The important question is: How do we acquire language?
As Stephen Krashen explains in Principles and Practice in Second Language Acquisition:
We acquire by "going for meaning" first, and as a result, we acquire structure! We acquire only when we understand language. "Understand" means that the acquirer is focussed on the meaning and not the form of the message.
If you don't know where to start, I've got your back. It is very SIMPLE. All you need is to listen to stories with the intent to understand the gist of the story. Little by little, story after story, you are going to understand more and more.
You will acquire the French structures and vocabulary joyfully!
#trusttheprocess
Share you favorite stories in the comments!
I love what Durong Yen Nhi shared:
Au début, je ne comprenais rien mais après avoir écouté vos histoires, encore et encore, je peux comprendre de quoi vous parlez maintenant (pas tous les mots mais ça montre que j'ai progressé). Merci beaucoup! Je suis contente d'avoir trouvé votre chaîne.
Kayley Lau asked a good question:
Merci Alice. I am French beginner and started to watch Marie et Médor à Paris series . This is funny. Can you give me some suggestion? Do you suggest we open subtitle to watch? Or first time close subtitle , then second time open subtitles to watch the story again?
Well… There is no right or wrong. I would suggest not having the English subtitles on as you will not make the effort to listen to the story with the intent to understand it. However you could have the French subtitles on if they help you understand the story better.
Your goal is to understand the gist of the story with the help of my drawings, gestures, facial expressions and… French subtitles.
After listening to many stories, you won't need all this extra help, you will understand everything!
JOIN US FOR 45 MINS LIVE TO DISCUSS PAINTINGS & SCULPTURES.
We are meeting again this Friday January, 21 to look at masterpieces!
If you are not quite sure what this is all about, watch the replays of last year's sessions. It was so much fun!
Russian writer, Dostoïveski wrote " La beauté sauvera le monde ", beauty will save the world.
Let's observe and share what we see and how we feel. let's observe beauty together. Let's speak French!
5pm UK / 6pm France / 12pm EST / 9am PST
for LA BONNE HEURE = THE HAPPY HOUR
Gain New Friends and Get Involved with the French Learners Community. #youarenotalone
Increase your vocabulary and comprehension #storyispower
Reduce your stress #relax
Communicate with real people in French #youcandothis
Happy French acquisition!
P.S. Got friends, family, colleagues or clients who want to become fluent in French? Share this with them, they'll thank you for it!
P.P.S What are you waiting for? Join us now for as little as 5 Euros/month (so the same as getting a nice drink)!