Coucou les French learners,
Two weeks ago, I posted Antony's question about having the correct pronunciation in French. The challenge of the French language is pronunciation. It is challenging to read in French because spelling does not match pronunciation.
There are also all those "weird" sounds (well, not for me!) like: -en, -on, -oin, -an… These are nasal sounds and they are challenging when you are not a native speaker. (This video is perfect to understand how to breathe those sounds!).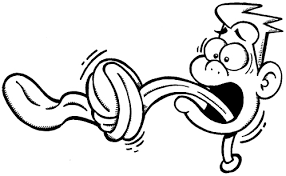 Fear not! These are my 5 tips to pronounce the words correctly in French.
1. Take the time to listen often.
The more you listen, the more you will get used to the melody of the French language. Each language has its unique melody and intonation. It is important to listen, listen and listen again to get this melody into your brain! Watch my video on YouTube – Prendre le temps d'écouter
2. Enjoy repeating what you understand.
When I listen to the Portuguese radio, whenever I understand a word, I repeat it. There are mostly connectors and ways to voice your opinion which I hear all the time. Words like – well, really?, however, I find that, at the end of day… When I repeat those words, I pretend I am the radio presenter and I try to sound like a Portuguese. Then when I speak to Portuguese people, those words come out of my mouth naturally without hesitation. Watch my video on YouTube – Le plaisir de répéter
3. Read aloud. 
When you read a story, listen to the audio and repeat at the same time as the narrator. This is called shadowing. The Audio sync view button allows you to follow what the narrator is reading. You can choose different speeds from very slow (x0.5) to very fast (x1.5). It gives you the confidence to start speaking about a content you know at your own pace.
4. Use your phone!
Beth sent me this great suggestion which I haven't tried yet but I thought it would be useful sharing. Beth wrote:
Here is what I do, I will speak into my phone in French to send texts to my French friends and the phone often messes up my words I thought I was saying.  Anyway,  I will re-do until it recognizes what I am actually saying.  I also speak German (unfortunately better than French) and the phone almost always recognizes what I say in German correctly!  Argh!  Anyway,  I thought you might like to know this technique for checking if I sound French enough for the phone to understand me.  
5. Have fun!
Actually, this is the most important tip in the process! When you have fun, chances are you will keep on trying. It will keep your motivation going because it is a journey! So pretend you are French and have fun repeating and pronouncing the words, the French way! Laila Sell who is an inspiring polyglott yoga teacher told me that when she was young, she would spend time in her room pretending she was French. She is now fluent in French! Watch my on hour conversation with her on YouTube or listen to it as a podcast.
#trusttheprocess #enjoy
QUOI DE NEUF ?
Fall live classe for Beginners Plus
We have started the Fall live classes on Zoom and I am enjoying catching up with old faces and meeting new faces. My never ending goal is to help YOU acquire French naturally and with joy!
There are still spaces left in the Beginner class on Fridays at 10 am EST. I have named this class "Beginner" but in fact, all learners in the group are "false beginners". They are beginners plus! They know some French already and need to acquire more vocabulary and structures.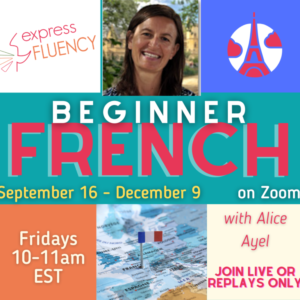 If you need a little push, come and meet us for one hour weekly. We are a small friendly group and we talk about what we enjoy doing, reading and watching all in comprehensible French.
Learners say:
Alice makes class so fun and interesting and she's very kind and patient. I'm actually learning, which I've never really had before, even with years of French class! The approach used to teach is amazing. So glad to not be writing out verb conjugations!

The stories are very helpful in enabling me to listen more and understand the words in a conversational form and not just vocabulary that I am trying to piece together.
Review of the week
Dawn wrote:
The Teen stage really opened my eyes to how much I know already! The Baby stage and Infant stage really prepares you for this next stage. I am not only writing everyday in my journal but I even started to write my weekly grocery list in French. Merci beaucoup Alice!
What are you waiting for? Join us now and make real progress in French for as little as 5 Euros/month!
Happy French acquisition!
P.S. Got friends, family, colleagues or clients who want to become fluent in French? Share this with them, they'll thank you for it!
P.P.S Come and connect with other members in the community during the Saturday live Community Session! It is an opportunity to share your journey acquiring French as these calls are driven by the members themselves. Karel, Diane, Tina, Paula, Lauren, Graham will welcome you warmly! #youarenotalone