Today I made a simple rhubarb tart.
The day before, I made the crust which was a sweet shortcrust pastry. Basically, I whisked together 125g sugar with one egg and a pinch of salt until it became frothy. I then added 250g of white flour which I first mixed with a wooden spatula then with my hands. I added 125g butter and a bit of cold water until I obtained a consistent dough. I put the dough in the fridge overnight, along with the chopped rhubarb (about three sticks) coated with sugar which I stored in a box.
Today I removed the pastry from the fridge and rolled it out to fit into my mould for tarts. I then covered the pastry with the chopped rhubarb and covered it up with a quickly made sort of custard: 200ml double cream, four eggs and a bit of sugar whisked together. I baked it in the pre-heated oven for about 30 minutes at 180 degrees. The contrast of the sharp rhubarb with the sweet pastry and custard made this tart perfect !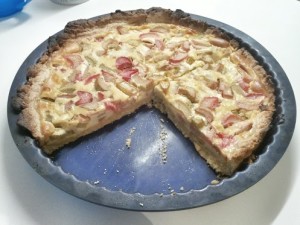 Happy Ascension Day!