Coucou les French learners,
C'est presque le début de l'été, it is nearly the start of summer! And it actually pretty hot over here, in Portugal!
On Sunday, we celebrated Saint Antoine, the saint patron of Portugal. Watch the video about his incredible life and when you are a member, read and listen to the script.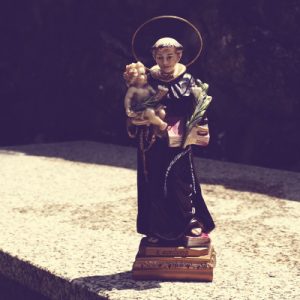 Saint Antoine was persevering. He didn't want to become a warrior like his family wanted to. He persevered and became a monk travelling in France and Italy to preach. He became a renown preacher.
Perseverance and discipline are key.
La discipline
I have been reading this thoughtful article about motivation over discipline. Allison Wojtowecz explains: " When you're looking to change something in your life: Let motivation inspire you, but don't expect it to stick around. Focus on building disciplined actions around that new thing. Get specific in what "discipline" will look like for your specific goal."
You can apply this to acquiring a new language. The process is simple but you need TIME.
How to do make time for French? Humans are creature of habits. Create a habit in your day. Allocate a time in your day when you will read and listen to comprehensible French. Stick to the time. This is discipline.
On Saturday's Community Live, Diane shared her French habit. Every afternoon, Diane reads and listens to a new French story. She writes down the new French words she doesn't know and memorizes them. Diane does this each afternoon and her comprehension as well as her speaking have improved a lot. She has read and listened to all the Baby stories, all of the Infant stories and she is now going through all the Teen stories!
What a role model for anyone acquiring a new language! Diane is my true HERO!
This is the POWER of DISCIPLINE. What do you do each day to acquire French?
The power of a community
When you hear about other's journeys, it does motivate you. It does push you.
Allison Wojtowecz writes: " Motivation will fire the engine… at first. Discipline will keep you going when you think it's out of gas."
On Saturdays, French learners come and connect with other members to share their journey (like Diane did) and to practice French too!
We are also meeting this Saturday June, 19 to co-create a story! The objective is to publish a great story for the community!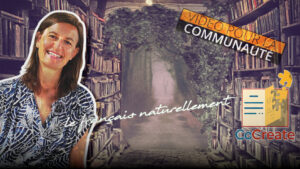 We had great fun co-creating our first story some weeks ago. We first imagined the characters and the plot together. We then wrote the story together and had a good laugh, ALL in French! Watch the replay here.
Gain New Friends and Get Involved with the French Learners Community. #youarenotalone
Increase your vocabulary and comprehension #storyispower
Reduce your stress #relax
QUOI DE NEUF ?
Create a daily French habit: Join me live for a daily experience for 2 weeks (10 sessions) Monday to Friday from June, 21 to July, 2.
There are still a few spaces left!
I've got you covered!
Choose whether you need to boost your comprehension – advanced beginner or you want to start speaking naturally – intermediate.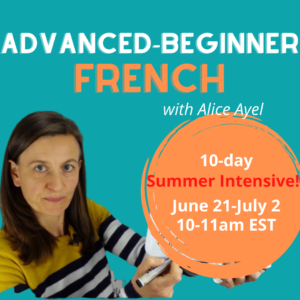 The Advanced Beginner Course is designed to gain a solid French comprehension. We will start each session by reading a chapter from my new book about Marie & Médor (it is not yet released! Be first to get a sneak peek). The book has many practical conversations and insights into French Parisian culture.
At the end of the course, have this great sense of achievement of having read a book in French!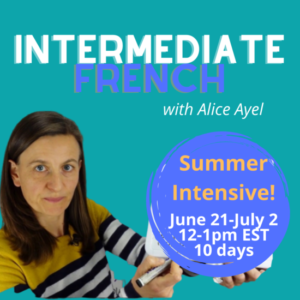 If you feel, you have reached the "intermediate plateau" and you want to move on, the Intermediate Course is for you. We will start each session by reading a compelling text, then we will discuss and debate. This will boost your confidence in talking in French!
The goal is to develop fluency as well as the ability to process the language spontaneously.
Each session is unique. You can miss one and you'll be able to join the next one without feeling lost. All sessions will be recorded and posted online.
#youcandothis
Join us
The Infant Stage is half way through! Session 15 is about a very common French structure – il faut – It comes with an explanation and then a compelling story about why tigers and cats are enemies.
The Infant Stage is for advanced beginners who have completed the Baby Stage. This stage continues to make you acquire the most common structures as well as how to tell the time or how to talk about the weather. Each session includes A STORY to help you become fluent in French joyfully without having all the pain to learn grammar rules nor word lists.
STORIES make you ABSORB the French language the JOYFUL way!
#trusttheprocess
REVIEW OF THE WEEK
Kay says: " I have taken Korean and Italian in the past with no real results. This method with comprehensible input WORKS. Prior to joining this site, I had zero French meaning I knew "bonjour" and "merci." I have since realized that French and English have many words in common. Alice will guide you through like a trusted friend or family member and help you gain the language. Alice has a plethora of short stories with audio. This is very important. Because the french ideal "less is more" is embedded in their beautiful language. Comprehensible input is the key to unlocking a new perspective/mindset! I really hope if you read this that you join this amazing community! A tres bientôt ! J'espère !"
What are you waiting for? Join us now for as little as 5 Euros/month (so the same as getting a nice drink)!
Happy French acquisition!
P.S. Got friends, family, colleagues or clients who want to become fluent in French? Share this with them, they'll thank you for it!
P.P.S Have you watched the recent Pause café with Dahiana Castro? We talk about the language as a tool to communicate. Listen to the podcast too!