"The path of pleasure is the only path. The path of pain does not work in language acquisition." Stephen Krashen.
One of my learners loves to read and she wants to read interesting books in French. It is indeed one of the most exciting ways to improve fluency in another language.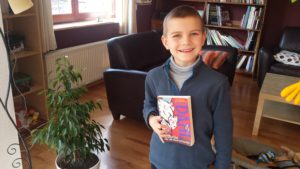 Here is one of my boy's proudest moment, when he finished his first chapter book two years ago. His mother tongue is French but he goes to an international school where the language of instruction is English. He self-selected which book he wanted to read. I, of course, helped him a bit to make his choice and he started with Roal Dahl's fantastic stories. Since then he has been reading many other English books which have improved his fluency and proficiency greatly. But most importantly, it is a pleasurable activity and he is now an autonomous reader.
By reading, you get input naturally! Choose a topic or a story you are passionate about, read easy books first, read many books and you will soon forget you are reading in another language!
One smart way to start reading in French without being frustrated (because you have to look up in the dictionary every two words!) is to read children's book.
Children's books use plenty of images, simple sentence structures and vocabulary, so they are easy to follow. Here's a great choice of French children's books to start with.
Another smart way to get familiar with French sentence structures is by reading the translated version of books you already know. I am thinking of Charlie et la chocolaterie de Roal Dahl or Le Crime de l'Orient Express d'Agatha Christie. You could also choose a series such as Harry Potter because the translation follows a pattern , and with each book you read, your comprehension will improve.
This article in FluentU includes more smart steps to read in French. Let me know your experience with reading in French. It is such a big achievement when you finish to read a book in another language!
Les aventures de Polo et Marco
In order to have a fresh supply bedtime stories, I am subscribed to a monthly magazine for children Les Belles Histoires. It contains a big story and some shorter funny stories like the one with Polo. It is story without script so my children look at the images and they are the ones telling the story. Actually, they rather have me telling the story!
The other night I was telling one of Polo's adventures and it gave me the plot for my new story!
In this story, you will acquire:
Ils mangent = they eat
Elle/il voit = s/he sees
Elle/il attrape = s/he catches
Ils n'ont pas = they don't have
nouveau = new
autre = other
Happy French acquisition!
A bientôt !
P.S. Got friends, family, colleagues or clients who want to become fluent in French? Share this with them, they'll thank you for it 🙂