Coucou les French learners,
In France, the summer holidays are coming to an end. La Rentrée is approaching!!!
La Rentrée is a word of utmost importance for the French, it basically means the Return with a capital R!

Enjoy going back to work you all! The cow is saying: "Kisses, kisses, my beloved desk!!!"
Over the summer, les juilletistes et les aoûtiens, those who go on summer holiday in July and in August were away from the big cities. They were relaxing by the seaside, the mountains or in the countryside. The shops were closed, the offices were empty, France was on hold.
At the end of August, the French come back to the cities to work, French children go back to school, the shops open again…Even the French President comes back to Paris: it is la Rentrée with a big R! There is la rentrée des classes, la rentrée politique, la rentrée littéraire… Everything is about the return to something!
Ma Rentrée is to offer you more videos to get even more French input! Now, if you are short on time, I created a new playlist on my YouTube channel with one minute videos to explain a specific word. Here is my explanation of la rentrée:
Fais pas ci, fais pas ça
La Rentrée also means going back to a routine and the French usually have the best intentions. They set themselves goals and new resolutions like to exercise regularly or to eat healthily. They say prendre la rentrée du bon pied which literally means to set the return on a good foot! Read this French article about healthy tips to going back to work: 7 conseils pour prendre la rentrée du bon pied. Remember that if when you read it, it is not enough comprehensible to you, you can then use Google Translate Web to help you!
So to help you start the French Rentrée on le bon pied, the good foot, I recommend you to watch and listen to as much French as you can! Understanding spoken and written French input is the only mechanism that results in the increase of your linguistic competence.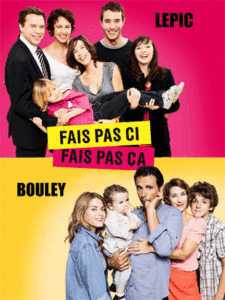 Why don't you watch a funny French television series? Fais pas ci, fais pas ça means don't do this, don't do that and the series follows the lives of two neighboring families, les Bouley and les Lepic with opposite methods of education. The Lepic are rather "conservative" while the Bouley appear as bobos more "liberal". Despite their social and cultural differences, the two families are friends and often face common problems.
The very first episode is about la Rentrée for both families and you might see yourself in similar situations such as calling your children to have dinner. In French we shout A table, to the table. You might also laugh when Fabienne Lepic is shopping for school supplies and she cannot find the cahier à petits carreaux, notebook with small squares!!!
Watch the episodes on YouTube, I hope you enjoy them as much as I do! Let me know in the comments below.
And by the way, the song at the start of the episodes is by a famous French singer, Jacques Dutronc. Listen to it with a fun animation here.
La Rentrée de Jean-Charles
I am always on the look for inspiration for my stories. I am especially looking for richer input and for stories which end with a twist to keep you engaged!
This story is inspired by a comic book entitled Les Gosses by Carabal. Jean-Charles has to get up to go to school but he wants to sleep in. How will his Mum make him get up???
In this story, you will acquire:
Il dort = he sleeps
Il doit se lever = he must get up
Tu dois aller à l'école = you must go to school
Il n'entend pas = he doesn't hear
Happy French acquisition!
A bientôt !
P.S. Got friends, family, colleagues or clients who want to become fluent in French? Share this with them, they'll thank you for it 🙂
P.P.S. I also created another playlist on my YouTube channel where I tell children's book. The first story is a very cute one although it is about a natural disaster! Watch it here.