Coucou les French learners,
Félicitations !!! You did it!
Bravo
Je suis folle de joie, I am overjoyed! You watched 31 videos in French every day for 31 days! It is amazing!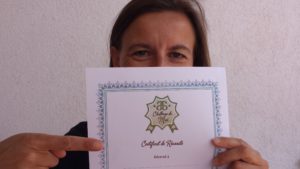 J'ai une surprise pour toi ! To congratulate you, I am awarding you with a certificate of accomplishment.
Download it here: certificat_challenge_Mai_FR.
Print it.
Frame it.
Take a selfie with it.
Share it.
#coucou
Even if you did not do it all, even if you are still doing it, don't give up. Share your journey. Trust the process.
I love hearing from you so let me know how your journey was: do you understand French better now? Do you find it easier to listen to a whole story in French? Do you feel less "anxious" when you don't understand every word but you got the story?
En juin, lis en français !
Now that you have listened to 31 French videos, you are ready for the next step: read French.
This month, I will be posting reading passages from French books on Social Media.
Check out my Instagram account to read something interesting in French each day.
Ask me questions if you don't understand a word or expression.
Share if you like the text or if you struggle to understand it.
#coucou
I am so excited about this new challenge. I am YOUR French booster!
Stay tuned as I am still releasing a new video every Saturday: stories, tales, recipes, guided tours and book reviews!
Happy French acquisition!
P.S. Got friends, family, colleagues or clients who want to become fluent in French? Share this with them, they'll thank you for it 🙂